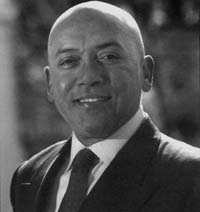 Perspectives on Law School Admissions
ALEX JOHNSON '75
TUESDAY, MARCH 5, 2002
The Law School Admission Council administered 107,000 Law School Admission Tests (LSATs) last year. And Alex Johnson '75 supervised each and every one.

Well, perhaps not directly - but as chairman of the Law School Admission Council's Board of Trustees, Johnson's two-year volunteer position provides an opportunity for him to be a vocal figure at a time in which schools like UCLA (and Pitzer College in Claremont) are questioning the value of traditional standardized tests in general. Johnson recognizes that the LSAT does not necessarily predict a student's success in law school, but he asserts that it nevertheless is a useful, impartial tool. As an African-American himself, Johnson disagrees with any assertion that the LSAT is biased against minorities. In an interview in the Chicago Tribune last fall, Johnson said, "the test is a great equalizer for minorities and others because it is one standardized metric we have to compare people across schools .... People can prove they can compete at the highest competitive level."

Johnson himself has continually proven his ability to succeed at the highest level. After graduating from the UCLA School of Law he worked for Latham & Watkins, a prestigious Los Angeles law firm. He eventually moved into teaching, and is currently a Professor at the University of Virginia School of Law. Prior to his national position with the Law School Admissions Council, Johnson served as Vice Provost for faculty recruitment and retention at UVa.

CMC students aspiring to become lawyers have a unique opportunity to meet one of the College's most distinguished alumni.