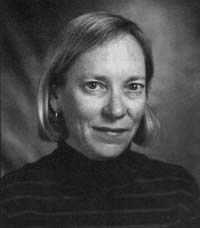 The Women in Combat Debate
ANNA SIMONS
TUESDAY, MARCH I2, 2002
Should women be able to serve in ground combat units? Absolutely. Should they serve in ground combat units alongside men? Absolutely not. Dr. Anna Simons, author of The Company They Keep: Life Inside the U. S. Army Special Forces (1997), and associate professor of defense analysis at the Naval Postgraduate School, makes the case that it is time to throw out the usual arguments about physical fitness differences between men and women, and instead concentrate on what the presence of women does to cohesion among men.

After earning her Ph.D. in anthropology from Harvard University, based on fieldwork conducted in Somalia (1988-89), Simons next found herself at Fort Bragg, North Carolina. There she engaged in a second stint of fieldwork-this time among Special Forces soldiers. Not only did this enable her to observe male bonding more closely than most academics who write about cohesion, but she continues to have a front row seat. Three years ago she left the anthropology department at UCLA to join the Special Operations Academic Group at the Naval Postgraduate School, where she teaches Special Operations officers, and her research continues to focus on cohesion as well as the likely nature of future war.

Simons' perspective is unusual not only because there are very few anthropologists who study modern warfare and modern militaries, but there are fewer still who concentrate on combat units. In general, proponents who favor lifting the combat exclusion laws have spent little time with soldiers in the field.
Thus, it is easy for them to seek gender equity when, perhaps, the more important goal should be maximizing combat effectiveness. So social equity or military effectiveness? - that's just one of the questions driving the women in combat debate.
Dr. Simons received her B.A. in Biological Anthropology from Harvard University. Her other publications include Networks of Dissolution: Somalia Undone (1995). Her Athenaeum lecture is sponsored by the Keck Center for International and Strategic Studies.