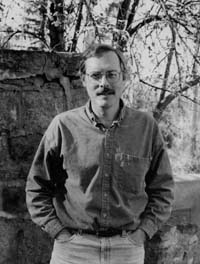 The Arab Jihad in Afghanistan: Pictures From an Occupation
DAVID EDWARDS
MONDAY, MARCH 25, 2002
Imagine a collection of 100,000 photographs, 3,000 hours of video and 1,600 audiotapes documenting the recent history of Afghanistan. But don't just imagine-join the Athenaeum for an inside look into this archive, when Williams College Afghan Media Project director David Edwards will share pictures and stories from Afghanistan. A man who became an expert about Afghanistan long before September 11th, Edwards oversees efforts to preserve one of the most extensive collections of visual and audio records from Afghanistan. In his Athenaeum lecture, Edwards will also consider the failure of the Arab Afghans to mobilize a base of support among Afghans for their objective of global jihad.

Seeking to combat decreasing coverage of Afghanistan in the late 1980s, the Pakistan-based Afghan Media Resource Center (AMRC) facilitated trips from 1987 to 1995 to Afghanistan for journalists, cameramen, video crews, and photographers. These photos, television reports, and audiotapes from remote regions (some of which required travel of up to a month to reach) were dispatched to media outlets including the BBC, CNN, and Time. Edwards, in recognizing the importance of the AMRC archive-as well as the danger posed to the archive by Pakistan's hot and dusty climate-is working to digitalize and preserve the collection.

Edwards is professor and departmental chair of Anthropology at Williams College. He has published articles on religious ideology in Afghanistan (again, long before most of the rest of us thought to take notice). His book, Before Taliban: Genealogies of the Afghan Jihad (1998), is from the University of California Press.

Professor Edwards delivers the fourth annual L. J. Kutten Lecture on Philosophy and Religion, made possible through the generosity of CMC alumnus L. J. Kutten '74.