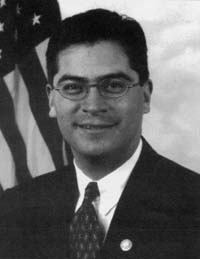 Cesar Chavez Commemoration
XAVIER BECERRA
WEDNESDAY, MARCH 27, 2002
. . . for any piece of farmworker legislation to be acceptable to the Hispanic Caucus, it must start and end with the protection of farmworkers' basic needs for adequate housing and working conditions.

-Congressman Xavier Becerra, July 28, 1998, to the Congressional Hispanic Caucus

Si se puede (yes we can).

-Cesar Estrada Chavez

Though awards and commemoration are important, Cesar Chavez did not seek recognition for himself. Instead, he fought for what he called "La Causa" - a commitment to improving the plight of the millions of exploited arid vulnerable farrnwarkers, From 1962 to 1993, the year he died, Cesar Chavez worked to instill in the United Farm Workers the principals of nonviolence practiced by Mahatma Gandhi. His leadership and commitment to nonviolence culminated in such important actions as the Delano grape strike and the 340 mile march from Delano to Sacramento in 1966. In 1988, at the age of 61, Chavez conducted his last - and longest-public fast for 36 days, to call attention to farrnworkers and their children stricken by pesticides. Therefore, The Claremont Colleges are honoring this hero who brought dignity to the voiceless men, women, and children laboring in America's croplands.

We are privileged to have with us a leader who has embodied Cesar Chavez's ideals and vision through his lifelong social activism and support of farmworker legislation. Congressman Xavier Becerra's leadership on this front has brought about change and improvement for the lives of farmworkers and their families. It is fitting, therefore, that Congressman Becerra deliver the keynote address for the First State holiday that honors the birthday of Cesar Estrada Chavez.

In 1980 Congressman Becerra earned his Baccalaureate degree in economics from Stanford University. He was awarded a Juris Doctorate from Stanford Law School in 1984. Congressman Becerra is the first in his family to attend college.

Prior to his election to Congress in 1992, Congressman Becerra served one term in the California Legislature. A former Deputy Attorney General with the California Department of Justices he commenced his legal career in 1984 working in a legal services office representing the mentally ill.

The address by Congressman Xavier Becerra is sponsored by the Cesar Chavez Commemoration Committee of The Claremont Colleges.