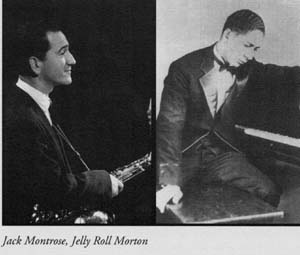 American Jazz Institute Brass Ensemble: Jelly Roll Blues- The Music of Jelly Roll Morton
JACK MONTROSE, tenor saxophone
MARK MASTERS, conductor, American Jazz Institute Brass Ensemble
JOE LABARBERA, drums
RON STOUT, trumpet
LES LOVITT, trumpet
SCOTT ENGLEBRIGHT, trumpet
STEPHANIE O'KEEFE, french horn
TOM RANIER, piano
PUTER SMITH, bass
DAVE WOODLEY, trombone
BILL ROPER, tuba
LES BENEDICT, trombone
WEDNESDAY, APRIL 3, 2002
Composer and pianist Jelly Roll Morton (1890-1941) is regarded by many as the first important jazz composer. Born in New Orleans on October 20, 1890, Morton, a gifted musician, learned to play many different instruments before concentrating on playing the piano at age 10. During his formative years in the early 1900s, he incorporated gospel, hymns, blues, ragtime, French, Hispanic, and Caribbean influences into a new, distinct style: jazz. His early classics, like "King Porter Stomp" and "Wolverine Blues," demonstrate his major role in the movement of this hybrid music style.

After a move to Chicago, Morton began touring with his group, the Red Hot Peppers, which featured Kid Ory and Johnny and Baby Dodds as members. His characteristic fusion of spontaneous improvised jazz and his rehearsed orchestral approach to ensemble jazz rank him with the likes of Duke Ellington, Thelonious Monk, and Charles Mingus.

Jelly Roll Blues is the fruition of a concept originally proposed to renowned tenor saxophonist and arranger Jack Montrose by Lester Koenig of Contemporary Records. Now, more than forty years later, the American Jazz Institute, the Gould Center for Humanistic Studies, and the Marian Miner Cook Athenaeum are delighted to present this concert.

Please join us for a night of "hot" jazz at the Ath.