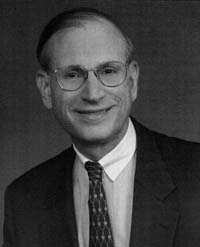 Imperfect Justice: The Unfinished Business of World War II
STUART EIZENSTAT
Thursday, April 18, 2002
What can be done to help Holocaust victims and their families? Stuart Eizenstat, a potent U.S. government advocate for payment of Holocaust claims, joins the Athenaeum to reflect on his work negotiating agreements on compensation for slave and forced labor and victims' assets. Eizenstat believes Western Civilization must deal with what he terms the "unfinished business of the twentieth century." First active on Holocaust claims issues in 1995 while U.S. Ambassador to the European Union, Eizenstat commanded great victories for victims of the Holocaust during his various tenures in the Clinton Administration.

As Clinton's leading expert on Holocaust-era issues, Eizenstat successfully negotiated major agreements with the Swiss, Germans, Austrians, and French. Clinton appointed him as Special Envoy for Property Claims in Central and Eastern Europe and benefited from his service (with CMC's Jonathan Petropoulos) on the Presidential Commission on Holocaust Assets in the United States. Eizenstat currently is on the U. S. Holocaust Memorial Council.

A leader in Jewish America, Eizenstat is famous also for his service as Deputy Secretary of the Treasury and in other departments in the Clinton Administration. The State Department's senior economic official, he was Under Secretary for Economic, Business, and Agricultural Affairs. He joined the Department of Commerce as the Under Secretary for International Trade. Secretary of Treasury Lawrence Summers and Secretaries of State Warren Christopher and Madeleine Albright all awarded Eizenstat their departments' highest awards.

Eizenstat earlier was active as President Carter `s chief domestic policy advisor and Executive Director of his domestic policy staff. But it is in his capacity as an expert on Holocaust-era issues that he joins us at the Athenaeum.

Eizenstat's evening Athenaeum address is part of a symposium on the Future of Holocaust Education and Post-Holocaust justice, to take place at Mary Pickford Auditorium on Thursday, April 18 from 2 to 4 p.m. Professors Jonathan Petropoulos and John Roth will announce the intention to create at CMC a Center for the Study of the Holocaust, Genocide, and Human Rights and will review the history and mission of Holocaust studies at CMC.

The symposium will continue with a panel discussion on broader themes of Holocaust education and Post-Holocaust justice. Joining Eizenstat on the panel will be Michael Berenbaum (former director of research at the U.S. Holocaust Memorial Museum and professor at the University of Judaism, Sara Bloomfield (Executive Director of the U.S. Holocaust Memorial Museum, Marilyn Harran (of Chapman University's Rodgers Center for Holocaust Education), Richard Hovannisian (authority on the Armenian genocide and Professor of History at UCLA, and Elazar Barkan (Associate Professor of History at CGU).

Eizenstat's evening lecture at the Athenaeum will look more specifically at the issue of "the unfinished business" yet at hand.