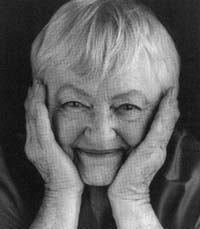 Readings and Reflections
PAT CARROLL
Tuesday, April 23, 2002
An actress for 54 years, Pat Carroll continues to make a splash. It is our good fortune that she is willing to take a break from gracing television, stage, and cinema screens to visit the Athenaeum.

Carroll made her debut in a 1947 production of A Goose for the Gander, starring Gloria Swanson. After playing more than 200 roles, she first performed on Broadway in 1995 in the musical revue, Catch a Star, for which she received a Tony nomination.

In television, she earned an Emmy for her work on "Caesar's Hour." For ten years Carroll played one of the wicked stepsisters in Rogers and Hammerstein's CBS production of Cinderella. She was a series regular on shows such as Busting Loose, The Danny Thomas Show, and She's the Sheriff. A frequent guest star on many shows, she was also known as the "dowager queen" of talk and game shows.

Her first one-woman show- Gertrude Stein, Gertrude Stein, Gertrude Stein (1979)-ran for 18 months in New York and toured for four years. She won a Grammy for the Caedman recording, the Outer Critics Circle Award for Best Production, and a Drama Desk Award for Best Actress. She began a career in classical theater in 1986 with roles in Shakespeare Theater productions in Washington, DC. For this she earned three Helen Hayes awards.

Current students may best recognize her portrayal of the wicked Ursula in Disney's The Little Mermaid (1989). But Carroll continues to perform in many other areas. She more recently performed on Broadway in George Kelly's The Show-Off (1992), in the New York Gilbert and Sullivan Players production of H.M.S. Pinafore (1996), and in Sophocles' Electra (1998). On television, she performed in a miniseries for American Movie Classics called "The Royale" (1997), which earned a nomination for a Daytime Emmy Award. Her latest film, Songcatcher (2201), is now on video.

Pat Carroll's appearance is a highlight in the Athenaeum's week-long focus on performance art.