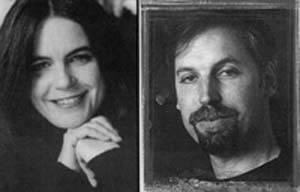 Poetry and Jazz at the Athenaeum
CATHERINE BOWMAN, poet
JOHN LINDBERG, bass
Wednesday, April 24, 2002
Catherine Bowman, a professor of creative writing in the Indiana University Graduate Creative Writing Program, is the author of the poetry collections Rock Farm (1996) and 1-800-HOT-RIBS (1993). Her poems have appeared in the 1997, 1995, 1994, and 1989 editions of Best American Poetry as well as many other literary magazines and journals, including The Paris Review, TriQuarterly, the Los Angeles Times, Ploughshares, Crazyhorse, Sycamore Review, Nerve, and Luna. Her work has also been published in several anthologies including An Exhalation of Forms (2002), The Extraordinary Tide: New Poetry by American Women (2001), Inking Through the Soul: Writers on Writing (2001), Aloud: Voices From the Nuyorican Café (1994), and Real Thing: Pop Culture Poems (1994).

For her writing, she was awarded the 1994 Kate Tufts Poetry Award, the Peregrine Smith Poetry Prize, the Kate Frost Discovery Award for Poetry, the Dobie Paisano Fellowship, a New York Foundation for the Arts Fellowship in Poetry, and two Yaddo Fellowships.

In addition, Bowman reports on poetry for National Public Radio's "All Things Considered" and is the editor of Word of Mouth, a collection of conversations with poets she has reviewed and featured on her NPR show.

However, in her Athenaeum appearance, Bowman will be highlighting a different aspect of her work. Besides speaking about and writing poetry, she also collaborates with avant-garde jazz composer and bassist John Lindberg. Together, they have performed and taught poetry and jazz workshops at a variety of venues in both North America and Europe, and have a forthcoming CD, recorded by the Pauline Oliveros Foundation's Deep Listening Space.

Bassist/composer Lindberg embarked on his professional career in 1975 at the age of sixteen. After having toured America working as a bassist in a variety of musical genres, he arrived in New York in 1977 and immersed himself in the world of jazz and improvised music, while pursuing private bass studies with David Izenzon and Dave Holland.

In the same year he cofounded the String Trio of New York, a performance ensemble that has produced fourteen recordings and presented hundreds of concerts worldwide and which is now celebrating its 20th anniversary season.

Two years later, he formed his first ensemble dedicated to the performance of his compositions. In all there are eighty original pieces that have been recorded to date. His ensembles and duo collaborations have performed throughout Europe, South America and North America.

John Lindberg is active composing, performing, and recording with his ensemble and with the String Trio of New York. He has also been actively involved in giving workshops and lecture/ demonstrations on composition, improvisation, and bass performance. His courses Words and Sounds (connecting literature and music) and Movement and Improvised Music (connecting dance and music) have been widely taught in university settings.

He has received fellowships from the New York Foundation for the Arts, the Arts International Collaborative Works, and the National Endowment for the Arts.

Please join us at the Athenaeum for a wonderful evening of jazz and poetry with Catherine Bowman and John Lindberg.