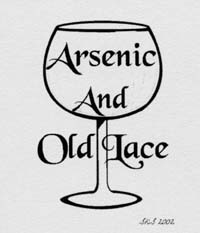 Under the Lights Presents
Dinner Theater
Arsenic and Old Lace by Joseph Kesselring
JUSTIN SHIROFF '02, director
Thursday, April 25, 2002
Friday. April 26, 2002
Saturday, April 27, 2002
Under the Lights, CMC's longest running student theater group, is proud to continue the tradition of highly entertaining theater and fantastic food with this spring's Dinner Theater performance of Joseph Kesselring's "Arsenic and Old Lace" (1952). This dark comedy has historic meaning for Under the Lights. Not only is it one of the most successful Broadway shows of all time, it was also, in 1989, the first play produced by Under the Lights in the Athenaeum.

In a quiet neighborhood in Brooklyn, the Brewster family has a long-standing tradition of being pillars in the community. The Brewster sisters are known for their charity, but what isn't known is the nature of that charity-the gentle murder of lonely old men. Nephews Mortimer, a neurotic theater critic; Teddy, who thinks he's Teddy Roosevelt; and Jonathan, a psychopath on the run; only complicate matters by bringing their own eccentricities into the mix. Throw in the NYPD, a sanitarium, and a very loud bugle and you have a raucous comedy sure to bring down the house!

The cast: Erin Bennett '05, Mike Baehr '05, Erin Evans '05, David Mistysyn '05, Amy Nelson '05, Suzannah Ferraioli '04, John Reilly '04, Andy Tharp '04, Ahmar Iqbal '04, Tom Meyer '03, Stephanie Hoffman '02, Geoffrey Pelton '02, and Misty Thomas '02.

The play lasts approximately two hours, and contains some adult humor. Dinner Theater is made possible by Under the Lights, the MMC Athenaeum, ASCMC, the letter w, and the number 6.

Clarernont Colleges students, faculty, and staff' . . . . .NO CHARGE
Community guests..........................................$17.00 per person

Seating will be festival style and is limited. Sign up as soon as possible, circling your first, second, and third choice of date. You will be contacted if your first choice reservation date is unavailable.