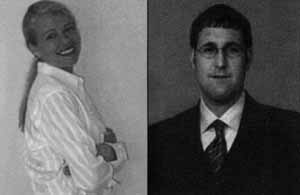 He Said-She Said
KATIE KOESTNER
BRETT SOKOLOW
THURSDAY, SEPTEMBER 26, 2002
How drunk is too drunk when it comes to sex? What are the legal definitions of sexual assault, consent and incapacity? Is there really a "point of no return"? Katie Koestner had to find answers to these and many more questions after a date rape during her freshman year of college in 1990. Outraged at the inadequate response from the College of William and Mary, she took her crime of silence and went public, landing on the cover of the June 3, 1991 Time magazine. Today Koestner is a Virginia state-trained peer educator and an outspoken sexual assault counselor who continues to receive national attention for speaking out against date-rape, the crime of silence that affects one out of every seven women on college campuses. In 1993 Koestner worked with HBO to make the Lifestories Docudrama, No Visible Bruises: The Katie Koestner Story. Some of her television appearances include Larry King Live, the Oprah Winfrey Show, NBC Nightly News, MTV and Good Morning America.

Brett A. Sokolow will cofacilitate this event as a higher education attorney specializing in campus security and sexual misconduct. Sokolow is President of the National Center for Higher Education Risk Management, based near Philadelphia, Pennsylvania. He has founded Men Acting for Change at the College of William and Mary; interned with Victim's Advocacy Legal Organization (VALOR); is editor of the Report on Campus Safety and Student Development, and author of seven books on campus security and sexual misconduct. Koestner and Sokolow, as copresenters, have appeared at more than 700 different colleges, high schools and military institutions in United States.

Please join us at the Athenaeum for a compelling, informative, and interactive evening with Katie Koestner and Brett Sokolow. To allow adequate time for these presentations, the program will begin at 6:30 p.m. This event is sponsored by the Dean of Students and the Athenaeum.