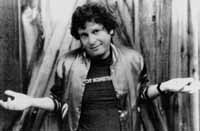 The Satirist as Public Intellectual
PAUL KRASSNER
MONDAY, SEPTEMBER I6, 2002
When Life magazine wrote an admiring profile of self-styled "investigative satirist" Paul Krassner, the FBI wrote a letter to the editor stating, "To classify Krassner as a social rebel is far too cute. He's a nut, a raving unconfined nut." Comedian George Carlin, in his introduction to Krassner's recently published collection of essays Murder at the Conspiracy Convention: And Other American Absurdities (2001), agrees: "The FBI was right. This man is dangerous-and funny and necessary."

Krassner has been a force in the counter-culture for more than forty years, as a stand-up comic, author and essayist, and editor of the widely influential underground magazine The Realist, which he published from 1960-2001. The New York Times has written of Krassner, "He is expert at ferreting out hypocrisy and absurdism from the more solemn crannies of American culture." And the Los Angeles Times observed that Krassner "has the uncanny abilitv to alter your perception permanently." When People magazine called him "the father of the underground press," Krassner demanded a paternity test.

Krassner was also cofounder, with Abbie Hoffman and Jerry Rubin, of the Yippies. His other books include Winner of the Slow Bicycle Race: The Satirical Writings of Paul Krassner (1996) and an autobiography, Confessions of a Raving, Unconfined Nut: Misadventures in the Counter-Culture (1993). His recorded comedy performances include We Have Ways of Making You Laugh (1996), Brain Damage Control (1997), and Sex, Drugs, and the Antichrist: Paul Krassner at M.I.T. (1999).

Paul Krassner is the first speaker in a series sponsored by the Gould Center for Humanistic Studies on "Public Intellectuals in American Life." Future speakers include Manhattan Project physicist and presidential advisor Herbert F. York, and literary critic Louis Menand.