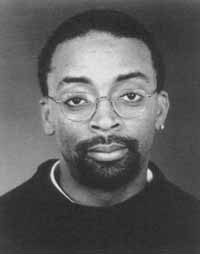 An Evening with Spike Lee
SPIKE LEE
MONDAY, SEPTEMBER 30, 2002 7:00 p.m. BRIDGES AUDITORIUM
Producer, director, writer, and actor Spike Lee has established himself as one of Hollywood's most influential filmmakers. His work is technically original, politically inspired, and often controversial. Throughout his career he has sought to "demystify" filmmaking.

Lee's 1986 debut film, She's Gotta Have It, earned him the Prix de Jeunesse Award at the Cannes Film Festival and placed his work at the forefront of the Black Wave in American cinema. It was followed by School Daze (1988) and Do the Right Thing (1989), which explored urban racial tensions and won an Academy Award nomination for Best Original Screenplay and Best Film and Director Awards from the L.A. Film Critics Association. The critically acclaimed Jungle Fever (1991), Malcolm X (1992), and Crooklyn (1994) followed. His recent projects include the Academy Award-nominated documentary 4 Little Girls (1997), about the 1963 bombing of a Baptist Church in Birmingham; the film Get on the Bus (1996), about the Million Man March on Washington, D.C.; and He Got Game (1998), starring Denzel Washington. Lee has also extended his directorial efforts to music videos for artists such as Miles Davis, Public Enemy, and Tracy Chapman. His television commercial work includes the Nike Air Jordan ads and he has produced several short films for HBO, many on sports figures. His piece on Albert Belle for HBO/Real Sports received an Emmy Award.

Lee was raised in Brooklyn, where he continues to reside. He graduated from Morehouse College in Atlanta and received an M.F.A. in film production from New York University. He has founded 40 Acres and a Mule Filmworks (a production office), 40 Acres and a Mule Musicworks (a record company), and Spike's Joint (a retail company).

In order to accommodate as many people as possible from The Claremont Colleges and the Claremont community, Spike Lee's talk will be held at Bridges Auditorium, 450 North College Way. His talk begins at 7:00 p.m. and admission is free. Priority seating will be reserved for CMC persons with ID. There will be no dinner prior to Mr. Lee's talk.

The Athenaeum will be screening various films directed by Spike Lee during afternoon tea the week of September 23.