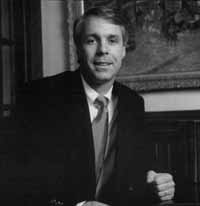 Royals and the Reich: The Princes of Hesse in Nazi Germany
JONATHAN PETROPOULOS
THURSDAY, OCTOBER 24, 2002
On the occasion of his installation as the first recipient of the John V. Croul chair in European History at Claremont McKenna College, Professor Jonathan Petropoulos will discuss his forthcoming book,
Royals and the Reich: The Princes of Hesse in Nazi Germany
(Oxford University Press 2004). This book will be the first-ever scholarly examination of pro-Nazi German aristocrats-members of the twenty-two Furtenhauser (royal houses) that remained after 1918. The post World War I political developments of an attempt at democracy, then fascism, threatened the weakened royal predominance in Germany. Specifically, Petropoulos's talk will focus on the lives of Philip and Christoph, Princes of Hesse. Both of the Princes provided considerable aid to the Nazis-Christoph as a top spy and Philip as a liaison between Hitler and Mussolini-before meeting untimely ends.
Other books by Petropoulos include The Faustian Bargain: The Art World in Nazi Germany (1999) and Art as Politics in the Third Reich (1996). A graduate of UCLA and Harvard, he is the director of the Gould Center for Humanistic Studies and a professor of history at Claremont McKenna College. This past year, Professor Petropoulos was the recipient of the G. David Huntoon Senior Teaching Award at CMC. He has also served as research director for art and cultural property on the Presidential Commission on Holocaust Assets in the United States and has helped to organize several art exhibitions, including Degenerate Art: The Fate of the Avant-Garde in Nazi Germany (Los Angeles County Museum of Art, 1991).