Athenaeum Location
Print Newsletter
October 28, 2002
Vol. 18, No. 04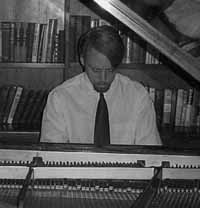 Jazz at the Ath
THE JASON FLATLEY QUINTET
JASON FLATLEY '03, piano
TAYLOR PRICE, bass
CHARLIE DECK, tenor saxophone
LIAM STACOWICZ, trombone
JOSH ZETUMER, drums
MONDAY, OCTOBER 28, 2002
Any friend of Claremont McKenna College senior Jason Flatley can tell you that he is passionate about music. Flatley has been studying piano for 16 years. During high school his focus turned towards jazz when he started studying with Reed Kotler. He has recently begun studying with Bill Cunliffe.

A native of Saratoga, California, Flatley is a mathematics major with, as he says, "an equal focus on music." He has been a member of the Pomona Jazz Band, performed numerous times at campus and community events, and can be heard regularly as the pianist for the 5-C improv comedy group, Without a Box. His musical interests also extend to composition. After graduation from CMC he is planning to either attend graduate school in mathematics or pursue a career in music in Los Angeles or New York.

In a performance that will consist of original interpretations of jazz standards, Jason Flatley is joined by bassist Taylor Price (Pomona '03), tenor saxophonist Charlie Deck (Pomona '03), trombonist Liam Stacowicz (Pomona '03), and Los Angeles-based drummer Josh Zetumer. The Claremont Colleges members of the quintet have been playing together for the past four years.

This will be a popular event, so be sure to sign up early if you wish to attend the preconcert dinner.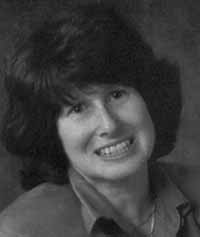 Trauma, Memory, and Law
GAIL GOODMAN
TUESDAY, OCTOBER 29, 2002
Gail Goodman, professor of psychology at the University of California, Davis, and professor of forensic psychology at the University of Oslo, Norway, has recently completed a longitudinal-prospective study of memory in child sexual abuse victims. This study, funded by the National Science Foundation, is unique in examining the accuracy of long-term memory of childhood trauma. Goodman's work also concerns children's emotional reactions to legal involvement, children's and families' perceptions of fairness after participating in prosecutions, and children's performance in forensic interviews. In her Athenaeum talk, Dr. Goodman will focus on children's and adults' eyewitness memory.

Goodman received her Ph.D. in developmental psychology from the University of California, Los Angeles in 1977, and completed postdoctoral studies at the University of Denver and the Universite Rene Descartes (Paris, France). She has been the author of numerous scientific publications and the recipient of numerous federal grants dealing with such topics as child maltreatment, memory for traumatic events, forensic interviewing, and children in court. Her work has been cited pivotally by the U.S. Supreme Court, and she has been a consultant to courts, legal agencies, and legislatures in countries worldwide. Her honors include the 2002 Distinguished Contributions Award from the American Board of Forensic Psychology.

Dr. Goodman's lecture at the Athenaeum is the second in the series Psychology and Law.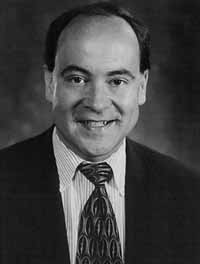 Litigating for Local Liberty: Fighting Grassroots Tyranny in the Schools, City Hall, and Other Government Bureaucracies
CLINT BOLICK
WEDNESDAY, OCTOBER 30, 2002 LUNCH
Clint Bolick cofounded the Institute for Justice in 1991 to engage in constitutional litigation protecting individual liberty. For the past 12 years, he has led the nationwide effort to defend school voucher programs, which provide public money for children to attend private schools. He has won school choice victories in the Wisconsin, Ohio, and Arizona Supreme Courts and most recently won a landmark ruling, Zelman v. Simmons-Harris, in the United States Supreme Court. He has also successfully litigated cases involving issues as diverse as property and occupational rights, affirmative action, interracial adoptions, and the interstate shipping of wine.

Bolick's remarks will address the recent Zelman case, but the overarching theme of his talk will center on the threat local governments pose to individuals' natural rights and constitutional liberties.

The Salvatori Center at Claremont McKenna College is sponsoring Clint Bolick's visit to campus. Lunch begins at 11:45 a.m. Mr. Bolick will speak at 12:15 p.m.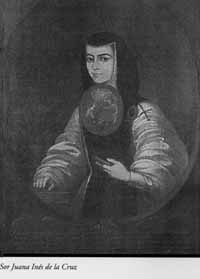 Sor Juana Ines de la Cruz: The First Feminist of the Americas
GREGORIO LUKE
WEDNESDAY, OCTOBER 30, 2002
Sor Juana Ines de la Cruz (1648-1695) is one of the major poets of the Spanish language and the first in our hemisphere to defend women's right to knowledge. She has been called "the first feminist of the Americas."

Gifted with intelligence, grace and beauty, she so passionately sought knowledge that she asked her mother to dress her up as a man so that she could attend the university, which at the time was closed to women.

Protected by the Vicereine, she went to live in the Royal Court of the New Spain and shortly thereafter became a nun. Sor Juana went on to write numerous plays and exceptionally beautiful love poems.

Towards the end of her life, she was silenced by the ecclesiastical hierarchy and forced to relinquish her library. The great poetess died during "the great plague" in Mexico City on April 17, 1695.

Gregorio Luke, an expert in Mexican art, is the Director of the Museum of Latin American Art (Long Beach). He was formerly the Consul of Cultural Affairs at the Consulate General of Mexico in Los Angeles and the First Secretary of the embassy of Mexico in Washington, D.C.

Luke has given over 500 lectures in museums and universities in Mexico and the United States. He has spoken at institutions such as The Library of Congress, The Smithsonian Institution, the San Diego Art Museum, the Detroit Institute of Art, and universities such as Harvard, Columbia, and Georgetown. At the Athenaeum in February 2000, Gregorio Luke presented a slide/lecture on the monumental works of Diego Rivera .

In 1992 Mr. Luke received a Mayoral Citation for the District of Columbia for promoting Mexican Culture and in 1995 he was conferred the Irving Leonard Award by the Hispanic Society of the Library of Congress.

Gregorio Luke's lecture is sponsored by the Modern Languages Department and the Marian Miner Cook Athenaeum.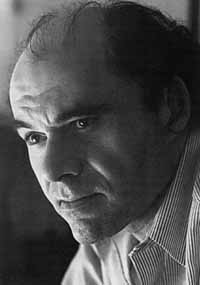 A Model for Post-Saddam Iraq
KANAN MAKIYA
THURSDAY, OCTOBER 31, 2002
Kanan Makiya will speak about the future of a post-Saddam Iraq in the case of regime change. His lecture is part of the series Crisis in the Middle East, sponsored by the Keck Center for International and Strategic Studies. Makiya will outline the kinds of discussions going on inside the Iraqi opposition, and the extent of U.S. interest in these evolving ideas. He will also discuss the possibilities and implications of "nation-building" and reconstruction in Iraq assuming the U.S. does end up playing a major role in these.

Kanan Makiya, born in Baghdad, left Iraq to study architecture at MIT, later joining Makiya Associates to design and build projects in the Middle East. In 1981 he left the practice of architecture and began to write a book about Iraq. Republic of Fear: The Politics of Modern Iraq (1989), which became a best seller after Saddam Hussein's invasion of Kuwait. It was republished in an updated form in 1995.

Makiya's next book, The Monument (1991), is an essay on the aesthetics of power and kitsch. In 1993 he published Cruelty and Silence: War, Tyranny, Uprising and the Arab World, which was awarded The Lionel Gelber Prize for the best book on international relations published in English in 1993.

Along with these books, written under the pseudonym Samir al-Khalil to conceal his identity, Makiya has written for The Independent, The New York Times, New York Review of Books, The Times Literary Supplement, and The Times.

In October 1992 he acted as the convener of the Human Rights Committee of the Iraqi National Congress, a transitional parliament based in northern Iraq. He has collaborated on two films for television, the most recent of which exposed for the first time the 1988 campaign of mass murder in northern Iraq known as the Anfal. The film was shown in the U.S. under the title Saddam's Killing Fields, and received the Edward R. Murrow Award For Best Television Documentary On Foreign Affairs in 1992.

Makiya has just published The Rock: A Seventh Century Tale of Jerusalem (2002), a work of historical fiction that tells the story of Muslim-Jewish relations in the formative first century of Islam, a story that culminates in the building of the Dome of the Rock. His recent articles include "Manual for a `Raid,"' published in the New York Review of Books on January 16, and "The Arab World and Sept 11," published in Dissent, spring 2002.

Kanan Makiya now teaches courses at Brandeis University on "Describing Cruelty," "The Monument and the City," and "Politics and Culture of the Modern Middle East."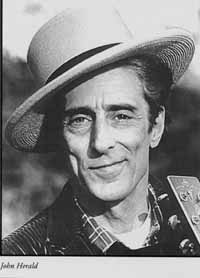 From the Grand Ol' Opry to Carnegie Hall
THE JOHN HERALD BLUEGRASS BAND
JOHN HERALD, vocals and guitar
BRANTLEY KEARNS, vocals and fiddle
FRED SOKOLOW, fiddle, mandolin, and fiddle
TOM SAUBER, fiddle, mandolin, and fiddle
PAT CAMPBELL, bass
MONDAY, NOVEMBER 4, 2002
John Herald is a singer, guitarist and top-notch showman... a cult figure among bluegrass aficionados . . .

-The New York Times

I've always been a sucker for his voice. God, I think he's great.

-Linda Rondstadt

Throughout his more than four decade career John Herald has been a proponent of traditional folk music and an innovator within the genre. Bob Dylan dubbed him the "country Stevie Wonder." Born and raised in Greenwich Village, son of a poet, John Herald began playing guitar in lower Manhattan pickup jam sessions with artists like Bob Dylan, Rory Block, Jorma Kaukonen or Ramblin' Jack Elliot. In 1959 he became well-known as lead singer and guitarist in the Greenbriar Boys, the first touring professional bluegrass group in the Northeast. Later he was a founding member of the Seventies folk collective The Woodstock Mountain Review.

Herald's career has also included work as a singer and session guitarist, recording with artists such as Bonnie Raitt, Doc Watson, and Bette Midler. He has also written songs for artists such as Peter, Paul, and Mary, Joan Baez, and the Woodstock Mountain Review.

John Herald resides in Woodstock, New York. He is currently a solo performer and occasionally plays as a member of the Woodstock Mountain Review. His most recent album Roll on John was released in 2000.

Members of the band include: Brantley Kearns, vocals and fiddle; Fred Sokolow and Tom Sauber, fiddle, mandolin, and banjo; and Pat Campbell, acoustic bass.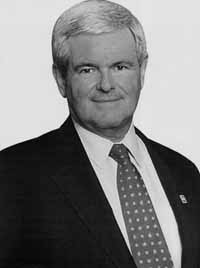 The 2002 Election Outlook
NEWT GINGRICH
TUESDAY, NOVEMBER 5, 2002 LUNCH
Newt Gingrich served as a Member of Congress for twenty years and as Speaker of the U.S. House of Representatives from 1995 to 1999. Under his leadership Congress passed welfare reform, the first balanced budget in a generation, and the first tax cuts in sixteen years. Gingrich is also widely recognized for his commitment to a better health care system, volunteerism, and the environment.

Named as Man of the Year by Time magazine for 1995, Gingrich is the author of five books including Contract with America (1994) and To Renew America (1995). In addition to his writing, he is a political analyst for Fox News Channel.

Currently, Gingrich is the CEO of The Gingrich Group, a strategy and communications consulting firm based in Atlanta, Georgia. He also serves as a senior fellow at the American Enterprise Institute in Washington, D.C., and as a distinguished visiting fellow at the Hoover Institution at Stanford University. He received his bachelor's degree in history from Emory University and master's and doctorate degrees in modern European history from Tulane University.

The lunch is for CMC persons only. Overflow seating will be accommodated in McKenna Auditorium. Lunch begins at 11:45 a.m. Mr. Gingrich will speak at 12:15 p.m.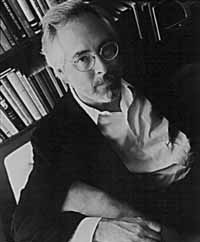 Public Intellectuals in American Life
LOUIS MENAND
WEDNESDAY, NOVEMBER 6, 2002
In his landmark work of intellectual history, The Metaphysical Club (2001), literary critic Louis Menand tells the story of the development of pragmatism following the Civil War through its greatest exponents-William James, Charles Sanders Peirce, John Dewey, and Oliver Wendell Holmes. Arguing that these thinkers were responsible for leading American democracy into a new age of freedom and pluralism, Menand shows the way that intellectuals can have a positive role in the shaping of public discourse. "They helped," Mend argues, "put an end to the idea that the universe is an idea, that beyond the mundane business of making our way as best we can in a world shot through with contingency, there exists some order, invisible to us, whose logic we transgress at our peril."

As a Contributing Editor of The New York Review of Books and a frequent contributor to The New Yorker and The New Republic, Menand has become a public intellectual whose writing on literature, philosophy, and film continues its wide influence on American readers. In addition to The Metaphyhsical Club, which was awarded a Pulitzer Prize for History, Menand has also written extensively on modern poetry, including Discovering Modernism: T.S. Eliot and His Context (1987), and edited The Future of Academic Freedom (1998) and Pragmatism: A Reader (1997).

Memand is professor of English at CUNY Graduate Center in New York City.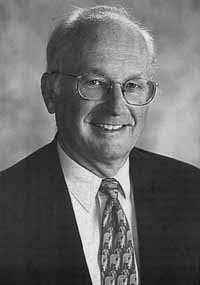 Bush's New Strategy for the Middle East
WILLIAM QUANDT
THURSDAY, NOVEMBER 7, 2002
The Bush Administration is radically reformulating long-standing American policy toward the Middle East. The Israeli-Palestinian peacemaking effort has been put on the back burner, Iraq and Iran have been labeled as part of "an axis of evil," the war on terrorism has become the dominant preoccupation of official Washington, and a new doctrine of "dominance" and "preemption" has been enunciated to prepare the ground for a war to disarm Iraq and change its regime. The Bush team talks as if it has an ambitious project of democratization in mind for the region as well. Professor Quandt will examine the new strategy and its chances of success.

In the fall of 1994 William B. Quandt joined the Department of Politics at the University of Virginia, where he holds the Edward R. Stettinius chair and currently serves as Vice Provost for International Affairs. He teaches courses on the Middle East and American Foreign Policy. Prior to this appointment, he was a Senior Fellow in the Foreign Policy Studies Program at the Brookings Institution, where he conducted research on the Middle East, American policy toward the Arab-Israeli conflict, and energy policy.

Before going to Brookings in 1979, Quandt served as a staff member on the National Security Council (1972-1974, 1977-1979). He was actively involved in the negotiations that led to the Camp David Accords and the Egyptian-Israeli Peace Treaty. He has written numerous books, and his articles have appeared in a wide variety of publications. His books include: Peace Process: American Diplomacy and the Arab-Israeli Conflict Since 1967 (Brookings, 2001, revised edition, 1993); Between Ballots and Bullets: Algeria's Transition from Authoritarianism (Brookings, 1998); Camp David: Peacemaking and Politics (Brookings, 1986); Saudi Arabia in the 1980s: Foreign Policy, Security, and Oil (Brookings, 1981). During 1987-88, he was President of the Middle East Studies Association. He is a member of the Council on Foreign Relations, and serves on the Board of Trustees of the American University in Cairo, The Middle East Institute, and the Foundation for Middle East Peace.

William Quandt was born in 1941 in Los Angeles, California. He received his B.A. in international relations from Stanford University in 1963, and his Ph.D. in political science from MIT in 1968.
ATHENAEUM ETIQUETTE
The Athenaeum serves as a gathering place where ideas, inquiry, and fellowship bring students, faculty, staff, other scholars, and nationally prominent speakers together. Attendance at any event may be limited to persons associated with CMC, to the people who signed up for the meal, or to the maximum number of people allowed by fire regulations. On some occasions the speaker may address the group in another forum or the College may set up a video feed to handle an overflow crowd. All programs at the Athenaeum are filmed. Individuals attending should understand that their image might appear on the videotape. House rules and common courtesy prohibit disruptive actions inside the building during an Athenaeum sponsored program. Time allowing, there will be a period set aside for questions. Students will have priority during this portion of the program. Guests are expected to dress appropriately in all dining rooms. Shorts, jeans, and t-shirts are not acceptable at dinner; more casual attire is acceptable for lunch and tea. No bare feet at any time.