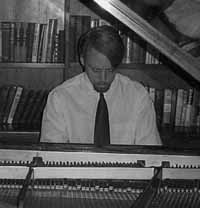 Jazz at the Ath
THE JASON FLATLEY QUINTET
JASON FLATLEY '03, piano
TAYLOR PRICE, bass
CHARLIE DECK, tenor saxophone
LIAM STACOWICZ, trombone
JOSH ZETUMER, drums
MONDAY, OCTOBER 28, 2002
Any friend of Claremont McKenna College senior Jason Flatley can tell you that he is passionate about music. Flatley has been studying piano for 16 years. During high school his focus turned towards jazz when he started studying with Reed Kotler. He has recently begun studying with Bill Cunliffe.

A native of Saratoga, California, Flatley is a mathematics major with, as he says, "an equal focus on music." He has been a member of the Pomona Jazz Band, performed numerous times at campus and community events, and can be heard regularly as the pianist for the 5-C improv comedy group, Without a Box. His musical interests also extend to composition. After graduation from CMC he is planning to either attend graduate school in mathematics or pursue a career in music in Los Angeles or New York.

In a performance that will consist of original interpretations of jazz standards, Jason Flatley is joined by bassist Taylor Price (Pomona '03), tenor saxophonist Charlie Deck (Pomona '03), trombonist Liam Stacowicz (Pomona '03), and Los Angeles-based drummer Josh Zetumer. The Claremont Colleges members of the quintet have been playing together for the past four years.

This will be a popular event, so be sure to sign up early if you wish to attend the preconcert dinner.