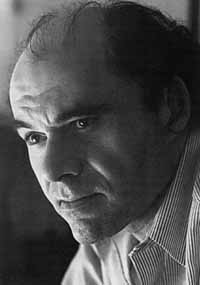 A Model for Post-Saddam Iraq
KANAN MAKIYA
THURSDAY, OCTOBER 31, 2002
Kanan Makiya will speak about the future of a post-Saddam Iraq in the case of regime change. His lecture is part of the series Crisis in the Middle East, sponsored by the Keck Center for International and Strategic Studies. Makiya will outline the kinds of discussions going on inside the Iraqi opposition, and the extent of U.S. interest in these evolving ideas. He will also discuss the possibilities and implications of "nation-building" and reconstruction in Iraq assuming the U.S. does end up playing a major role in these.

Kanan Makiya, born in Baghdad, left Iraq to study architecture at MIT, later joining Makiya Associates to design and build projects in the Middle East. In 1981 he left the practice of architecture and began to write a book about Iraq. Republic of Fear: The Politics of Modern Iraq (1989), which became a best seller after Saddam Hussein's invasion of Kuwait. It was republished in an updated form in 1995.

Makiya's next book, The Monument (1991), is an essay on the aesthetics of power and kitsch. In 1993 he published Cruelty and Silence: War, Tyranny, Uprising and the Arab World, which was awarded The Lionel Gelber Prize for the best book on international relations published in English in 1993.

Along with these books, written under the pseudonym Samir al-Khalil to conceal his identity, Makiya has written for The Independent, The New York Times, New York Review of Books, The Times Literary Supplement, and The Times.

In October 1992 he acted as the convener of the Human Rights Committee of the Iraqi National Congress, a transitional parliament based in northern Iraq. He has collaborated on two films for television, the most recent of which exposed for the first time the 1988 campaign of mass murder in northern Iraq known as the Anfal. The film was shown in the U.S. under the title Saddam's Killing Fields, and received the Edward R. Murrow Award For Best Television Documentary On Foreign Affairs in 1992.

Makiya has just published The Rock: A Seventh Century Tale of Jerusalem (2002), a work of historical fiction that tells the story of Muslim-Jewish relations in the formative first century of Islam, a story that culminates in the building of the Dome of the Rock. His recent articles include "Manual for a `Raid,"' published in the New York Review of Books on January 16, and "The Arab World and Sept 11," published in Dissent, spring 2002.

Kanan Makiya now teaches courses at Brandeis University on "Describing Cruelty," "The Monument and the City," and "Politics and Culture of the Modern Middle East."