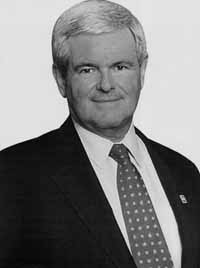 The 2002 Election Outlook
NEWT GINGRICH
TUESDAY, NOVEMBER 5, 2002 LUNCH
Newt Gingrich served as a Member of Congress for twenty years and as Speaker of the U.S. House of Representatives from 1995 to 1999. Under his leadership Congress passed welfare reform, the first balanced budget in a generation, and the first tax cuts in sixteen years. Gingrich is also widely recognized for his commitment to a better health care system, volunteerism, and the environment.

Named as Man of the Year by Time magazine for 1995, Gingrich is the author of five books including Contract with America (1994) and To Renew America (1995). In addition to his writing, he is a political analyst for Fox News Channel.

Currently, Gingrich is the CEO of The Gingrich Group, a strategy and communications consulting firm based in Atlanta, Georgia. He also serves as a senior fellow at the American Enterprise Institute in Washington, D.C., and as a distinguished visiting fellow at the Hoover Institution at Stanford University. He received his bachelor's degree in history from Emory University and master's and doctorate degrees in modern European history from Tulane University.

The lunch is for CMC persons only. Overflow seating will be accommodated in McKenna Auditorium. Lunch begins at 11:45 a.m. Mr. Gingrich will speak at 12:15 p.m.