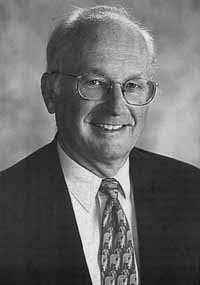 Bush's New Strategy for the Middle East
WILLIAM QUANDT
THURSDAY, NOVEMBER 7, 2002
The Bush Administration is radically reformulating long-standing American policy toward the Middle East. The Israeli-Palestinian peacemaking effort has been put on the back burner, Iraq and Iran have been labeled as part of "an axis of evil," the war on terrorism has become the dominant preoccupation of official Washington, and a new doctrine of "dominance" and "preemption" has been enunciated to prepare the ground for a war to disarm Iraq and change its regime. The Bush team talks as if it has an ambitious project of democratization in mind for the region as well. Professor Quandt will examine the new strategy and its chances of success.

In the fall of 1994 William B. Quandt joined the Department of Politics at the University of Virginia, where he holds the Edward R. Stettinius chair and currently serves as Vice Provost for International Affairs. He teaches courses on the Middle East and American Foreign Policy. Prior to this appointment, he was a Senior Fellow in the Foreign Policy Studies Program at the Brookings Institution, where he conducted research on the Middle East, American policy toward the Arab-Israeli conflict, and energy policy.

Before going to Brookings in 1979, Quandt served as a staff member on the National Security Council (1972-1974, 1977-1979). He was actively involved in the negotiations that led to the Camp David Accords and the Egyptian-Israeli Peace Treaty. He has written numerous books, and his articles have appeared in a wide variety of publications. His books include: Peace Process: American Diplomacy and the Arab-Israeli Conflict Since 1967 (Brookings, 2001, revised edition, 1993); Between Ballots and Bullets: Algeria's Transition from Authoritarianism (Brookings, 1998); Camp David: Peacemaking and Politics (Brookings, 1986); Saudi Arabia in the 1980s: Foreign Policy, Security, and Oil (Brookings, 1981). During 1987-88, he was President of the Middle East Studies Association. He is a member of the Council on Foreign Relations, and serves on the Board of Trustees of the American University in Cairo, The Middle East Institute, and the Foundation for Middle East Peace.

William Quandt was born in 1941 in Los Angeles, California. He received his B.A. in international relations from Stanford University in 1963, and his Ph.D. in political science from MIT in 1968.