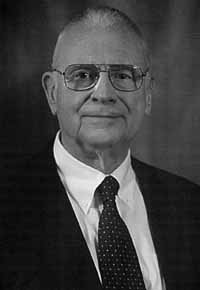 Major U.S. Foreign Policy Challenges
LEE HAMILTON
TUESDAY, NOVEMBER 12, 2002 LUNCH
Former U.S. Congressman Lee Hamilton has been described as standing out from his peers for his breadth of vision, his judiciousness, and his devotion to the common good and the best interests of the United States. His manner is reminiscent of Richard Weaver's description of Abraham Lincoln, that he is always focused on essentials and sought to lead the American people to their best interests with kind and unassuming persuasion.

Hamilton has served as Director of the Woodrow Wilson International Center for Scholars since January 1999. The Woodrow Wilson Center is an intellectual haven where scholars, policymakers, and business leaders investigate and discuss public policy issues in a nonpartisan manner. He is also currently the director of a project for the Center on Congress at Indiana University. The Indiana Center aims to educate citizens on the way the U.S. Congress operates, its importance, and its role in our system of government. Prior to his current positions, Lee Hamilton served for thirty-four years as a Democratic Congressman from Indiana. During his tenure in Congress, Mr. Hamilton was influential in the area of foreign affairs. He served as a member of the Committee on Foreign Affairs, now the Committee on International Relations, for his entire time in Congress. During his years in Congress, he took particular interest in promoting democracy and market reform in the former Soviet Union and Eastern Europe, as well as promoting peace and stability in the Middle East. His service as a ranking member and a chairman enabled him to become an astute observer of many significant historical events, such as the Arab-Israeli peace negotiations, the fall of the Berlin Wall, and the 1991 Gulf War. Lee Hamilton is a graduate of DePauw University. Mr. Hamilton's talk is sponsored by the Keck Center for International and Strategic Studies and the Marian Miner Cook Athenaeum.

Lunch is served at 11:45 a.m. The talk begins at 12:15 p.m.