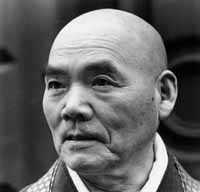 Dharma Talk
KYOZAN JOSHU
TUESDAY, JANUARY 28, 2003
Situated in the Angeles mountains, only half an hour drive from Claremont, is one of the few monastic training centers for Japanese Rinzai Zen Buddhism in the West: Mt. Baldy Zen Center. For the evening gathering at the Athenaeum we are honored to announce that Kyozan Joshu Roshi, 96 years old abbot and Zen Master at Mt. Baldy Zen Center, offered to be our guest and to outline and share his teachings.

Kyozan Joshu Roshi was born in 1907, ordained a monk in 1921 and, after being an abbot in Japan, came to America in 1962. He has been here ever since, teaching his unique style of Zen to all interested students. Mt. Baldy Zen Center is his main training domain. In spite of his age he keeps traveling to many affiliated centers all around the globe. His continued presence, energy and compassion is a true inspiration to all of his students and friends.

Roshi's teaching is woven around the insight that we all are continuously born from one single source, the source of everything, even of space and time. Being born, we find ourselves surrounded by opposing forces: heaven and earth, men and women, past and future etc. By making relationship to both forces equally and fully, we learn to achieve piece of mind, and to return to our original nature.

This evening's presentation is made possible by the generosity of CMC alumnus, L. J. Kutten '74 and is the fifth lecture in the series on philosophy and religion.

At 4:00 p.m. interested persons are also invited to join a short class in zazen- the zen style of seated meditation, lead by a Mt. Baldy monk. This class will be held in the Freeberg Lounge at the Athenaeum.