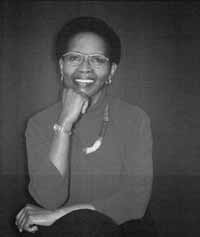 Are Some Things Unforgivable?
PUMLA GOBODO-MADIKIZELA
THURSDAY, JANUARY 30, 2003 12:15 p.m.
Once in a very great while we meet someone whose courage inspires-even provokes-us. Pumla Gobodo-Madikizela is one of those rare few. Her book, A Human Being Died That Night: A South African Story of Forgiveness (2002), about her work on South Africa's Truth and Reconciliation Commission with Archbishop Desmond Tutu will change the world's understanding of remorse and forgiveness.

Pumla Gobodo-Madikizela was born in Langa Township in Cape Town, South Africa. She completed her undergraduate studies at Fort Hare University, and her Ph.D. degree from the University of Cape Town. Currently, Gobodo-Madikizela is associate professor of psychology at the University of Cape Town; adjunct professor in the Unilever Ethics Centre at the University of Natal; and faculty affiliate for the Coexistence program at the Brandeis Ethics Center.

As the only psychologist on the TRC's Human Rights Violations committee in the Western Cape, Pumla made the extraordinary decision to interview Eugene de Kock-a man known as "Prime Evil" for his relentless pursuit and extermination of antiapartheid activists.

Pumla met de Kock in Pretoria's maximum-security prison where he currently serves two life sentences and 212 years for crimes against against humanity. It was here that Pumla began a journey that would lead her to examine the far reaches of human cruelty and cause her to redefine the value of remorse and the limits of forgiveness.

Pumla tells the gripping story of how one of the most depraved state-sanctioned killers of the last century came to be, and the ways in which he rationalized his actions. She also explains how she-and others like her who grew up in black South African Townships-struggles with the sometimes contradictory impulses to hold accountable and to forgive.

In the book we listen in on Pumla's conversations with de Kock and witness his extraordinary awakening of conscience. This transformation raises one of the most complicated questions of our time: What does it mean when we discover that someone so evil is also as frighteningly human as we are?

Following her luncheon talk author Pumla Gobodo-Madikizela will sign copies of her book in the Athenaeum lobby. International Place and the Athenaeum are hosting the lunch, which is served at 11:45 a.m. Pumla will speak at 12:15 p.m.

Reservations are required to attend the lunch. The talk is open to all.