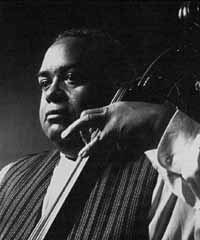 The Ray Drummond Jazz Quartet
RAY DRUMMOND '68, bass
CRAIG HANDY, saxophone
SHERMAN FERGUSON, drums
DANNY GRISSETT, piano
MONDAY, FEBRUARY 10, 2003
Internationally acclaimed bassist, composer, and Arabesque recording artist Ray Drummond will perform original compositions and jazz standards in his return to the Athenaeum. Drummond will be joined by saxophonist Craig Handy, drummer Sherman Ferguson and pianist Danny Grissett. A CMC alumnus (class of 1968), Ray Drummond served as student body president and along with a handful of student musicians and jazz enthusiasts in Claremont, founded the "Jazz Society." Following graduation, Drummond combined careers as business executive by day and jazz musician at night, but eventually realized that jazz was his calling. Based in New York for more than 20 years. Drummond is constantly in demand and has earned the reputation as one of the finest bass players in the world. He has performed with numerous notables, including Wynton Marsalis, Betty Carter, Woody Shaw, and Art Farmer.

Says Ray Drummond, "For me, jazz is a calling. Its a mission. Jazz is a language. It's got its vocabulary, its punctuation." Ray Drummond's musical language is a part of over 100 jazz albums and has been heard in major jazz venues the world over. His most recent album, "One, Two, Three, Four" featuring solo, duos, trios, and quartet arrangements was released in 1999. Gene Santoro, writing for the Daily News, wrote that "Drummond create[s] elastic rhythmic textures that (keep) the soloists sharp and the crowd's feet tapping. It's the kind of effect that everyone feels but only musicians hear."

A superb bassist, Drummond is also well known as a composer, conductor, producer, and instructor. Of his composing he explains, "My writing comes from a couple of streams. It's as if they're two separate types of music that on the surface don't appear complementary: neo-bop and a percussive Africanized style." He has taught at music schools all over the world, including the Stanford Jazz Workshop, the Berklee School of Music, the University of Massachusetts, and the Sibelius Academy of Music in Helsinki, Finland. Currently he is a Professor at the Institute for Music and the Performing Arts at the Institute for Music and the Performing Arts at the California State University at Monterey Bay.