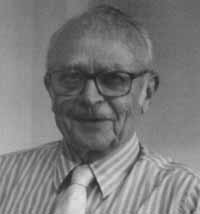 The Publishing World-Then and Now
STERLING LORD
THURSDAY, FEBRUARY 13, 2003 4:00 p.m.
Sterling Lord is one of the most venerable agents in the world of publishing. A literary agent since 1951, Lord has represented some of America's best known authors including Jack Kerouac (Lord's persistence found a publisher for On the Road (1957)), Ken Kesey, Howard Fast, Gloria Naylor, Jimmy Breslin, Nick Pileggi, David Wise, Dick Francis, Terry Southern, Walter Lord, and Stan and Jan Berernstein, authors of the largest selling children's books in the world. Lord began his career as a magazine editor in and publisher in Europe and the United States. He is currently chairman of Sterling Lord Literistic, Inc, one of the world's most prestigious literary agencies.

Lord has enjoyed a reputation as an innovator in the publishing world. In 1953, he was one of the first agents to sell major autobiographical books as films (Somebody Up There Likes Me (1956) and Fear Strikes Out) (1957). He was also one of the first agents to break the book publishing tradition of single submission of materials, and move into multiple submissions and auctions. In the 1960's, with the demise of many national magazines (Look, Life, Saturday Evening Post, Colliers, etc.), Lord set up his own syndicate of Sunday newspaper magazines and also syndicated well-known daily newspaper columnists, including Jimmy Breslin and Dick Schaap). His syndication of Jimmy Breslin broke all newspaper traditions regarding payments, exclusivity, and use of his material in subscriber newspapers. In 1968, Lord conceived of the idea that college textbooks could be made more readable and produced more effectively by putting a qualified academic together with an established professional writer. That idea produced Demociaty Under Pressure: An Introduction to the American Political System by Milton Cummings and David Wise (Harcourt Brace Jovanovich, now Wadsworth), still the largest selling college textbook on American government today, and in its ninth edition.

When Sports Illustrated named the 100 best sports books of all time in its December 15, 2002 issue, 16 of them were represented by Sterling Lord. Lord is the author of two published books, and has been an instructor at Columbia University School of Journalism. He is currently on the advisory board at New Canoe University where he is an instructor. Lord was born and raised in Iowa, and was a nationally ranked tennis player at the ages of 15 and 18. He is currently writing a book about his more than 50-years in publishing. You are welcome to join Sterling Lord at 4:00 p.m. for an informal discussion in the Freeberg Room in the Athenaeum.