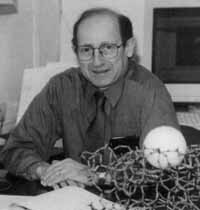 Paradigms Found and Paradigms Lost. Science Extraordinary and Science Pathological. Which Is Which? And How to Tell the Difference
NICHOLAS TURRO
TUESDAY, MARCH 11, 2003
Scientists claim that atoms can undergo nuclear fusion at room temperature in a container for jam. A teaspoon of oil can still the waves of an angry pond. A human being has been cloned . . . make that two! Are these claims true or are they examples of pathological science? Prof. Nicholas J. Turro will discuss how science handles extraordinary claims and how such claims can either lead to intellectual revolutions that change the way communities think and act, or to situations in which human beings can be lead astray by subjective effects, wishful thinking, or threshold interactions.

Nicholas J. Turro is the William P. Schweitzer Professor of Chemistry at Columbia University where he has been since 1964. He was born in Middletown, Connecticut, where he attended Wesleyan University before going to Caltech for his Ph.D. in 1960. He is the author of Modern Molecular Photochemistry (1991), a standard text in the field and has published over 700 research papers in established scientific journals. He is a member of the National Academy of Sciences and the American Academy of Arts and Sciences.

In addition to his signal accomplishments as a research scientist, Turro has published an important analysis of the way science is done, and is recognized as an educational leader who has made a national impact. These accomplishments have recently been recognized by his selection in 2002 as Distinguished Teacher Scholar by the National Science Foundation.