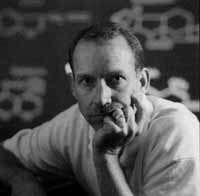 Vexing Nature: On Ethics and Genetically Modified Foods
GARY COMSTOCK
WEDNESDAY, MARCH 12, 2003
Genetically modified (GM) foods are produced using new techniques of biotechnology, such as gene silencing and insertion. While the American public has generally accepted GM corn and soybeans, the foods have proven controversial in Europe. In this interactive lecture, philosopher Gary Comstock will lead a discussion of the major moral objections to GM foods. He will argue that the U.S. needs a broader discussion of GM foods' ethical dimensions if its environmental risks are to be minimized and benefits realized.

Currently Comstock is professor of philosophy and director of the ethics program at North Carolina State University. He is the author of an influential book on agricultural biotechnology, Vexing Nature? On the Ethical Case Against Agricultural Biotechnology (2000), in which he explains his transformation from writing essays against genetic engineering, to becoming a "cautious proponent" of GM foods. In addition, Comstock is the current editor of Life Science Ethics and is a world-renowned expert in ethics.

Comstock's presentation is the fourth talk in the series The Environment in Crisis, sponsored by a grant from the Andrew W. Mellon Foundation, the Roberts Environmental Center, and the David E. French Lectureship.