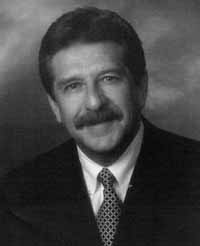 Cesar Chavez Commemoration
ALEXANDER GONZALEZ
THURSDAY, MARCH 27, 2003
The end of all knowledge must be the building up of character.

-Cesar Estrada Chavez

Students must have initiative; they should not be mere imitators. They must learn to think and act for themselves-and be free.

-Cesar Estrada Chavez

Cesar E. Chavez called the movement to organize America's farmworkers La Causa. Chavez was a humble man, who did not seek recognition for himself. Instead he sought to give voice to the millions of exploited and vulnerable farmworkers who from dawn until dusk, plant, plow and pick the crops for our dining table. "Huelga," the strike or boycott, was the tool he used as he pushed for safer working conditions and stood up to those who would deny his fellow laborers their basic human rights. His commitment transcended the hot, dusty fields, as he became an icon for the ongoing struggle for equal rights and equal opportunity. The migrant schools that Cesar Chavez worked so hard to establish are a testament to his exhaustive efforts, and a rare opportunity for many of America's laboring children to escape poverty through education.

In much the same way President Alex Gonzalez, from humble beginnings and working- class parents, has risen to become the President of California State University at San Marcos. President Gonzalez is the embodiment of what Chavez saw as the potential of all our children to succeed, and to achieve beyond their families' grasp. Dr. Gonzalez received his Bachelor of Arts degree in History from Pomona College, graduating with honors. After attending Harvard Law School, he completed his Master's and Doctoral studies in Social Psychology at the University of California at Santa Cruz. He also spent a year as a postdoctoral fellow at Stanford University. Dr. Gonzalez is in his sixth year as President of California State University, San Marcos. Under his leadership, the campus has continued its rapid growth in enrollment and construction, strengthened its academic programs, tightened its fiscal management, and enhanced its relations with its off-campus community and friends in the region it serves. In addition, Dr. Gonzalez has been appointed to serve on the President's Commission on Educational Excellence for Hispanic Americans. The Commission will be creating a national multiyear plan to close the educational achievement gap between Chicano/Latino students and their peers.

The Cesar Chavez Commemoration Committee is proud to present the address by Dr. Alexander Gonzalez to commemorate the life and work of Cesar Chavez, and to give testament to the fact that through hard work and determination one may succeed against all odds. Please join us for what promises to be an educational and motivational evening.