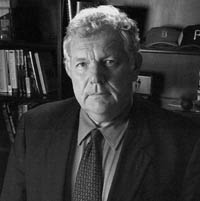 Integrity in Public and Private Life
WILLIAM BENNETT
TUESDAY, APRIL 29, 2003
William Bennett is known as one of the nation's most respected voices on cultural, political, and education issues. Currently, he is a distinguished fellow at the Heritage Foundation, codirector of Empower America, and chairman and co-founder of K12, an Internet-based elementary and secondary school.

During the 1980s, Dr. Bennett emerged as one of the nation's most prominent political figures. He served as President Reagan's chairman of the National Endowment for the Humanities from 1981-1985, as Secretary of Education from 1985-1988, and as President Bush's "drug czar" from 1989-1990. Currently, Dr. Bennett also is the chairman of Americans for Victory over Terrorism, a project dedicated to sustaining and strengthening public opinion as the war on terrorism moves forward. In his various roles, he was perceived as a man of strong, reasoned convictions, and as a person who spoke candidly and honestly about some of the most important issues of our time.

Named by Time magazine as "One of the 25 Most Influential People in America," Dr. Bennett is a contributor to a variety of newspapers and magazines including The Washington Post, New York Times, and the Wall Street Journal. He has written and edited 15 books and also has a weekly segment on Fox News Channel's Hannity & Colmes. Dr. Bennett's most recent books are Why We Fight: Moral Clarity and the War on Terrorism (2002) and The Children 's Book of Home and Family (2002).

As an undergraduate, Dr. Bennett studied philosophy at Williams College. He earned his doctorate degree from the University of Texas and a law degree from Harvard University.

The Pacesetters Fellowship Program is the culmination of the hard work and dedication of alumni from the classes of 1948, 1949, and 1950-the Pacesetters. The program attracts leaders in business, academia, and public affairs to Claremont McKenna College for classroom visits and one-on-one interactions with students. Dr. Bennett is the third Pacesetters Fellow.