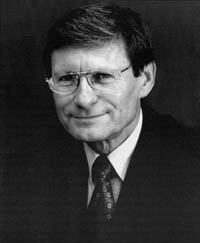 EU Enlargement and Economic Catching-up of the Candidate Countries
LESZEK BALCEROWICZ
THURSDAY, APRIL 17, 2003 12:15 p.m.
Next year Poland will be among the first group of Eastern European countries to become full members of the European Union. No one deserves more credit than Leszek Balcerowicz in setting Poland on the necessary economic course to join this union of advanced European states. Currently serving as the governor of Poland's Central Bank, Dr. Balcerowicz is the most influential economist in Poland and one of the most prominent politicians in all of Eastern Europe today. Dr. Balcerowicz travels to Claremont from the Central Bank in Warsaw to share his insights on Poland's accession to the European Union.

Dr. Balcerowicz has an impressive history of public service and academic accomplishment. Before the collapse of communism in Poland, Dr. Balcerowicz taught economics and held academic posts in his country and abroad. In September 1989 he became Deputy Prime Minister and Minister of Finance in the first non-communist government in Poland. He also served as President of the Economic Committee of the Council of Ministers. In this vital period in Poland's transition to capitalism and democracy, he designed and executed the radical stabilization and transformation of the Polish economy. He remained in the government until December 1991. From April 1995 to December 2000 he was the president of the Polish political party, Freedom Union (UW). From 1997 to June 2000, Dr. Balcerowicz again served in government, returning to the posts of Deputy Prime Minister, Minister of Finance and President of the Economic Committee of the Council of Ministers. In January 2001, Poland's parliament appointed Dr. Balcerowicz to the post of the President of the National Bank of Poland. He remains in this post today.

In addition to his public service, Dr. Balcerowicz has remained an active scholar in the field of economics throughout the 1990s. Since October 1992, he has been a professor at the Warsaw School of Economics (WSE), and since 1993 has been Chair of International Comparative Studies at WSE. He is the recipient of a dozen honorary degrees from universities in the United States and Europe.

This talk is co-sponsored by the Keck Center for International and Strategic Studies and the Marian Miner Cook Athenaeum. Lunch is served at 11:45 am. Dr. Balcerowicz will speak at 12:15 pm.