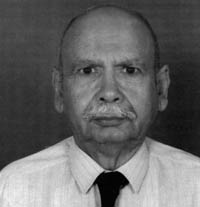 South Asia- What Lies Ahead
Y.M. BAMMI
THURSDAY, APRIL 17, 2003
What lies ahead for South Asia? General Y.M. Bammi will share his perspective on the prevailing strategic environment in South Asia, with special reference to terrorism, fundamentalism, nuclear issues, and their international ramifications. Touching on post-9/11 realignments in the region, he will chart a road map for future cooperation between the United States and South Asia, with special emphasis on the India/Pakistan/Afghanistan/Iran quadrangle. The impact of the U.S.-Iraq Conflict will also be analyzed.

During his 37 years of distinguished military service in the Indian army, General Bammi played an active role in counter insurgency operations, the 1962 India-China war, and the 1971 India-Pakistan war in East Pakistan which led to the establishment of Bangladesh. He commanded an infantry battalion on the Line of Control in Jammu and Kashmir, an independent infantry brigade, a mountain division, and a strike corps. Bammi retired as the Director General of Assam Rifles-India's oldest paramilitary force guarding the North East frontier. He served as instructor with the Royal Bhutan Army from 1963-1965 and was India's defense advisor in Malaysia and Singapore from 1977-1980. He has traveled extensively, including to the USSR, Germany, the U.K., France, Thailand, Nepal, and Japan.

In addition to contributing articles on various security subjects, including the Pakistan army, Gen. Bammi recently completed a research thesis on South East Asia. His first book, Kargil 1999: The Impregnable Conquered was released by Field Marshal Sam Manekshaw, MC, in October 2002, and is currently under reprint. An active member of the Indian Institute of Strategic Studies, he is a visiting lecturer at the Indian Institute of Advance Studies, the Infantry School at Mhow, College of Land and Air Warfare, and the Indian National Police Academy. He is a research fellow at the United Services Institution of India and a member of the Gorkha Rifles foundation in the United Kingdom.

General Bammi is a graduate of the Defense Services Staff College, Higher Commanders Course and Senior Defense Management Course, and has a master's degree in Military Science.

General Bammi's visit is cosponsored by the Keck Center for International and Strategic Studies and the Marian Miner Cook Athenaeum.