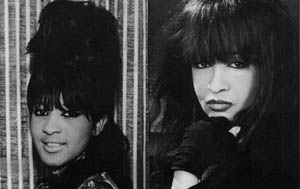 Beyond the Beehive
RONNIE SPECTOR
TRICIA SCOTTI, guitar
GABRIELLA OSTROWSKA, piano
MONDAY, APRIL 21, 2003
Ronnie Spector sang "Be My Baby" as the ultimate bad Catholic dream girl, a barely legal Spanish Harlem incident with a voice that's been blowing woofers since 1963. She is St. Veronica, blessed among women, inspiring bad girls from Patti Smith to Madonna to spend years chasing her echo, not to mention nice Catholic boys like Scorsese, Springsteen and Johnny Thunders.

-Rob Sheffield
Rolling Stone, October 28, 1999

Ronnie Spector, a self-described "girl from Spanish Harlem," is an icon in the world of rock-and-roll music. Revered by artists and fans alike, Spector achieved success in the 1960s while still in her teens as lead singer and founding member of the quintessential girl group, the Ronettes. With chart-topping hits like "Be My Baby" (1963), "Walking in the Rain" (1964), and "Baby, I Love You" (1963), the Ronettes were the original bad girls of rock. In the Sixties Spector's opening acts ranged from the Rolling Stones to Eric Clapton and the Yardbirds. The Ronettes were personally invited by the Beatles to open for their final U.S. tour. Other rock legends with whom Spector has performed and recorded include Bruce Springstecn, Jimi Hendrix, Joey Ramone, Patti Smith, and Alice Cooper.

At the height of Ronnie Spector's success, she became trapped in an abusive marriage that deprived her of the stage, the recording studio, and, for a time, her identity. Instead of playing to packed houses, she lived behind electric gates, barbed wire, and guard dogs, enduring nonstop psychological and emotional torture. At the age of 29, she fled from ex-husband Phil Spector's mansion in her bare feet. Despite enormous obstacles, Ronnie Spector found her way back to the life and career in music she had lost.

In Beyond the Beehive, Ronnie Spector chronicles her unique odyssey from the Peppermint Lounge to Beverly Hills, from hit men to hit records, from disenfranchisement to the courtroom, and from CBGB's to performances for the leaders of the free world. With humor, innocence, and optimism, she tells her story as the ultimate rock-and-roll survivor.

Her performance is part of the Intercollegiate Women's Studies series Women, Music, and Activism and is jointly sponsored by the Gould Center for Humanistic Studies, the CMC President's Office, the CMC Dean of the Faculty's Office, and the Marian Miner Cook Athenaeum.