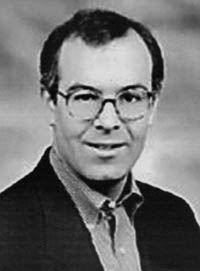 The Last (Suburban) Man: The Suburbs and American Politics
DAVID BROOKS
THURSDAY, APRIL 24, 2003 12:15 p.m.
David Brooks's wit and insight into the new bourgeois-bohemian class (bobos) is vividly displayed in Bobos in Paradise: The New Upper Class and How They Got There (2000, Simon & Schuster). Brooks is currently writing a book on suburban man, a class that overlaps the bobos, and his lecture will sketch the themes of his most recent work. Attendees can expect a presentation characterized by a combination of humor and understanding second to none among contemporary journalists.

Brooks is a senior editor of the Weekly Standard, a contributing editor at Newsweek and the Atlantic Monthly, and the "Machine Age" columnist for the New York Times Magazine. He appears often as a commentator on National Public Radio, CNN's Late Edition, and The Jim Lehrer Newshour. Before joining the Weekly Standard in 1995, he was a foreign correspondent and op-ed editor for the Wall Street Journal.

Brooks has also published articles in numerous periodicals including the New Yorker, Forbes, the Washington Post, the TLS, Commentary, and Public Interest.

David Brooks' luncheon talk is sponsored by Claremont McKenna College's Salvatori Center. Lunch will be served at 11:45 am. The talk begins at 12:15 pm and is open to the public.