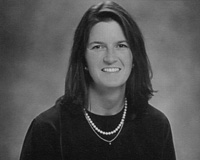 Dinner for the Class of 2007
50 Years of DNA: Where Are We Now?
MARY HATCHER-SKEERS
MONDAY, SEPTEMBER 8, 2003
Popular professor and celebrated scientific scholar Mary Hatcher-Skeers will address the Class of 2007 at this special dinner. All members of the freshman class are automatically signed up for the dinner and must call the Athenaeum (ext. 18244) if unable to attend.

With the increasing popularity of DNA evidence in the courtroom, scientific research involving this molecule has tremendously affected both the medical and legal professions. Perhaps one of the most diversely applicable scientific ideas in the 21st century, the DNA double helix celebrates its 50th anniversary this year. Much has been learned about this amazing molecule since 1953 but there remain many questions about its role in biological functions. With numerous years of experience in DNA-related research, Professor Hatcher-Skeers will highlight the significant findings of the past 50 years and describe some of the exciting research being done today.

Associate Professor in the joint Science Department and Clare Booth Luce Chair of Chemistry, Hatcher-Skeers earned her Ph.D. in Physical Chemistry from the University of Washington in 1996. She was an NIH Postdoctoral Fellow at MIT and Brandeis from 1996-1998. Hatcher-Skeers has been awarded numerous honors for both teaching and research since joining the Claremont faculty in 1998. She is currently working on a project called "DNA Structure and Dynamics in BanHI-DNA Interactions" with a generous grant from the National Institute of Health.

Her research about life and human genomes extends well beyond the classroom as Professor Hatcher-Skeers is a mother expecting her second child in December.