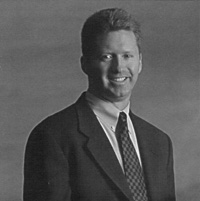 U.S.-German Relations in the Aftermath of the Iraq War
THOMAS KELSEY '88
MONDAY, SEPTEMBER 22, 2003
A career foreign service officer, Tom Kelsey currently serves as Country Desk Officer for Germany in the United States State Department. In this role, he is responsible for the daily monitoring and overview of U.S. political relations with one of the most important allies of the United States and involves intensive and continual interaction with senior officials in both the German and U.S. governments. Prior to his current posting, Kelsey has been at the center of American foreign policy, serving as special assistant to U.S. Secretaries of State Madeline Albright and Colin Powell.

Other postings have included Watch Officer in the State Department Operations Center, Economic Officer in the U.S. Embassy in Kuwait, and Vice Consul and Political Officer in the Embassy in Athens.

Before being commissioned into the Foreign Service in 1994, Kelsey served in the U.S. Army, commanding a company, and was deployed to Operation Desert Storm. He was awarded the Bronze Star Medal for his service in the first Iraq war.

Kelsey has had an extremely successful career in one of the most competitive and demanding arenas of public service. We are pleased to welcome him back to CMC where he will lead a timely discussion about current U.S-German relations. This talk should provide important insights into the differing views of the Iraq War, international relations, and relations with Germany, an historic and vitally important ally.

Tom Kelsey will also meet separately with students who are interested in careers in the Foreign Service. Please check with the Career Services Center for further information on this session.