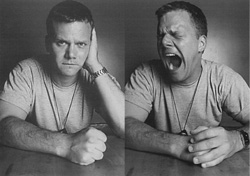 Spoken Word Performance
TAYLOR MALI
WEDNESDAY, SEPTEMBER 24, 2003
He is like nothing you have ever seen before at the MMCA. Four-time National Poetry Slam champion Taylor Mali wows every audience with his dynamic, and brutally honest wit. An Oxford-educated actor with an M.A. in English literature, Mali recently put those skills to use teaching math to sixth graders. Such a background explains his major source of inspiration . . . teaching. What teachers make, or, You can always go to law school if things don't work out is one of Mali's most popular works thanks to its biting humor and his obvious theatrical expertise. In the words of one teacher, "his work is filled with the energy, joy, pathos, and humor of everyday life in the classroom."

Taylor Mali will perform original pieces from his newest CD, Conviction (2003), as well as two previously released CD's entitled Poems from the Like Free Zone (2000) and The Difference Between Left and Wrong (1995). In addition to being a poet and teacher, Mali penned the book, What Learning Leaves (Hanover Press, 2002). The actor has also graced the eternal stage in two 1998 films: Slam, the Sundance Film Festival winner, and Paul Devin's documentary SlamNation. The slam poet recently showcased his new one-man show, Teacher Teacher (2000) for NBC after performing numerous times on HBO's Def Poetry Jam.

Described as "a ranting comic showman and literary provocateur . . ." by the New York Times, Taylor Mali's appearance at the Athenaeum will be an unforgettable event.

Mali's performance is jointly sponsored by the Dean of Students Office and the Marian Miner Cook Athenaeum.