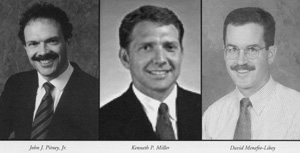 California Politics: Losing Ground or Making Strides?
JOHN J. PITNEY, JR.
KENNETH MILLER
DAVID MENAFEE-LIBEY
MONDAY, SEPTEMBER 29, 2003
Is the recall of Governor Gray Davis a celebrity circus or a real way to make progress toward better state government? Is California government powered by private corporations or other special interest groups? Is Arnold Schwarzenegger right, does "the money comes in and the favors go out?" Ever controversial, the California political scene is boiling over with accusations, questions, and searing commentary from the left, right, and middle. In the last two months California politics have made international headlines as issues such as the recall election, budget crisis, and "legislative gridlock" feed fierce debates around the globe. Also under attack are 'sacred' California monuments such as Proposition 13, the law requiring a two-thirds vote by the legislature to raise most taxes (except property taxes which are capped at one percent and can increase by no more than two percent per year unless two-thirds of voters approve a larger increase).

With a huge presidential electorate, and a country-sized economy (California has the 7th largest economy in the world) the precedents set in California will likely have a large influence on the rest of the nation and world. Leadership changes could lead to great improvements, or mismanagement and erosion of confidence in electoral politics.

The Athenaeum is pleased to host three prominent Claremont professors to analyze and lead a discussion on the current political scene. Jack Pitney, professor of government, is one of CMC's most popular teachers and frequently quoted media expert. Kenneth Miller, assistant professor of government, has just this fall joined the CMC faculty. David Menefee-Libey, is associate professor of politics at Pomona College and coordinator of its Public Policy Analysis Program. Come learn about the key players in this historic recall election drama, and enjoy what is sure to be an intense and lively debate.