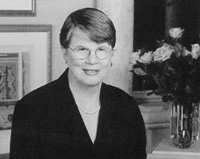 A Conversation with Janet Reno
JANET RENO
TUESDAY, OCTOBER 14, 2003
When Janet Reno was appointed the 78th Attorney General of the United States, she became the first woman to lead the nation's largest law enforcement office. Her eight-year term made her the longest-serving attorney general since the Civil War. During Ms. Reno's tenure, she revolutionized law enforcement by achieving conventional crime rate and drug use reductions, as well as demonstrated outstanding integrity and adherence to the laws of justice.

As Attorney General during the Clinton Administration, Ms. Reno enforced policies on civil rights, race relations, corruption, the environment, gun control, and immigration. Focusing on the well-being of the Nation's children, she pushed for reforms to provide assistance to troubled youth. Ms. Reno also increased the government's information technology resources devoted to law enforcement and proposed additional Internet security by encouraging collaboration between companies and federal agencies.

Because of her outstanding service, Ms. Reno has been recognized by numerous organizations for her positive and enduring contributions to both law enforcement and humanity. Recently, she was named the 2003 recipient of the Stennis Center's Lindy Boggs Award, which honors a woman from the south who has demonstrated the ideals of patriotism, courage, integrity, and leadership through public service. Ms. Reno also has been inducted into the National Women's Hall of Fame, is the recipient of the Women's International Center Living Legacy Award and the Woman of Vision Award, to name a few.

Ms. Reno is a graduate of Cornell University and Harvard Law School. After nine years in private practice, she was named staff director of the Judiciary Committee of the Florida House of Representatives. Ms. Reno's other positions include counsel for the Florida Senate's Criminal Justice Commission for Revision of the Criminal Code, state attorney for the Eleventh Judiciary Circuit of Florida, and state attorney for Dade County.

Janet Reno's appearance at the Athenaeum is sponsored by the Res Publica Society of Claremont McKenna College. Dinner reservations are for CMC persons only. The lecture beginning at 6:45 p.m. is open to the public without charge, no reservations necessary.