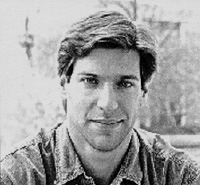 The Smoking Gun: Energy and Health in Developing Nations
DAN KAMMEN
TUESDAY, OCTOBER 7, 2003
Health and environmental concerns are hot topics here in the United States, but what are the issues in developing countries? In his Athenaeum presentation, Dan Kammen will discuss the effect the environment has on the well-being of the populations of such nations. The Director of the Renewable and Appropriate Energy Laboratory (RAEL), Kammen is an authority in dealing with policy regarding energy and the environment. Dan Kammen, professor of Public Policy in the Goldman School of Public Policy at the University of California at Berkeley, has done extensive work in the area of renewable energy. He also worked on many projects regarding the risk analysis of global warming. In 1993, he received the 21st Century Earth Award, recognizing contributions to rural development and environmental conservation from the Global Industrial and Policy Research Institute and Nihon Keizai Shimbun in Japan.

An advocate of deep cuts in greenhouse gas emissions and resource consumption, Kammen works hard to promote environmental policy change. He is a regular commentator on energy matters here in California as well as across the world. He is the author of Should We Risk It? Exploring Environmental, Health, and Technological Problem Solving (1999) a book on environmental, technological, and health risks and has also written over 120 journal articles. Dan Kammen received his B.A. in physics from Cornell University and his M.A. and Ph.D. from Harvard University.

This lecture is part of the series The Environment in Crisis, funded by a grant from the Mellon Foundation and coordinated by Kathleen Purvis-Roberts, assistant professor of chemistry in the Joint Science Department.