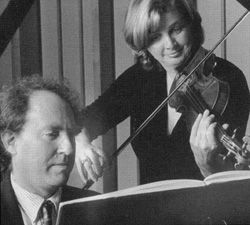 Bravo Brahms!
MARGARET BATJER, violin
JEFFREY KAHANE, piano
WEDNESDAY, OCTOBER 8, 2003
Since its founding in 1969, the Los Angeles Chamber Orchestra has earned international acclaim for its unsurpassed virtuosity and versatility. Under the baton of Jeffrey Kahane- who in 1997 became the fifth in a succession of extraordinarily distinguished music directors (following Sir Neville Martinet, Gerard Schwaruz, Iona Brown, and Christof Perick)- this 40-member ensemble has enjoyed standing ovations at sold-out performances in venues ranging from inner-city L.A. elementary schools to Carnegie Hall. Known for its innovative programs, the Orchestra performs a startlingly varied repertoire- from Corelli to Corigliano, Locatelli to Lutoslawki, Schubert to Stemmez.

Education and community outreach have always been vital to the mission of the Los Angeles Chamber Orchestra. Meet the Music, a program offered in cooperation with the Los Angeles Unified School District, allows students in grades 4 through 6 to have personal contact with musicians and composers and participation in the musical community. Another series, Neighbor-hood Concerts begun as a pilot project in the 1994-1995 season, is an outreach and community education program designed to bring live concerts by the Chamber Orchestra to local community venues in economically and culturally diverse L.A. neighborhoods. Still another way of bringing down traditional barriers between musicians and audiences is Conversations, an interactive series featuring mostly music of the Baroque and Classical periods. In this Athenaeum program, concert master Margaret Batjer and music director Jeffrey Kahane will perform two of the three violin sonatas of Johannes Brahms (No. 1, in G, op. 78; and No. 3 in D minor, op. 108).

Since her debut solo appearance at age 15 with the Chicago Symphony Orchestra, Margaret Batjer has performed with a succession of major ensembles throughout the U.S. and Europe. A graduate of the Curtis Institute and former student of the legendary Ivan Galamian, Batjer, whose reputation as violinist of consummate technique and unimpeachable musicianship spans oceans and continents, performs regularly at such festivals as Music from Marlboro, the La Jolla Summerfest, the Naples and Cremona Festivals, and (in 1995 and 1999, at the invitation of Maurizio Pollini) the Salzburg Festival. Among the numerous recordings she has made for such labels as EMI, Nuova Era, BMG, and Dynamic, is a performance, with Salvatore Accardo, of J.S. Bach's concerto in D minor for two violins.

Even before maestro Kahane, a native of Los Angeles, embarked on a spectacularly successful career as a conductor, he had earned a reputation as a soloist of the highest order. His keyboard artistry, which the Los Angeles Times has described as "versatile in styles, superior in technique, unlimited in horizons," has led to numerous collaborations with the world's great orchestras (the New York, Los Angeles, Rotterdam, and Israel Philharmonic, and Cleveland, Philadelphia, and Leipzig Gewandhaus Orchestras, to name but a few), chamber ensembles (the Emerson String Quartet, among others), and the preeminent virtuosi of our time (among whom Joshua Bell, Yo-Yo Ma, and Dawn Upshaw just begin a long list). His discography- as conductor, pianist, and harpsichordist- includes the music of Bach, Schubert, Richard Strauss, Bernstein, and Paul Schoenfeld. A new recording of Bach's violin concerti with Hilary Hahn and the Kahane-led Los Angeles Chamber Orchestra will be released on Deutsche Grammophon this fall.

This program is sponsored by the Gould Center for Humanistic Studies at Claremont McKenna College.