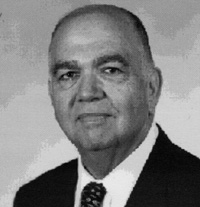 Reflections on the Armenian Genocide
RICHARD HOVANNISIAN
THURSDAY, OCTOBER 9, 2003
While extraordinarily few scholars can lay legitimate claim to being the world's foremost authority on any subject or any period, Richard Hovannisian owns the distinction of being the unsurpassed expert on the entirety of a nation's history. As the author of a score of volumes (not to mention more than fifty articles) on every aspect and period of Armenian history, as founder and three-time president of the Society for Armenian Studies, and as first holder of the Armenian Educational Foundation Endowed Chair in Modern Armenian History at UCLA, Hovannisian's contribution to the understanding of Armenian and Near Eastern and Caucasian history remains unrivalled- and will likely continue as such for generations to come.

Even as his monumental two-volume history, The Armenian People from Ancient to Modern Times (1997), encompasses the 3,000 years and six continents of the Armenian state, Hovannisian is perhaps best known for his research and writing on the widespread massacre, deportation, and diaspora that began under the Ottoman sultanate in 1894, continued with the Cilician pogroms of 1909, and culminated in the genocide of 1915-1922. A Guggenheim Fellow, Hovannisian has received many honors and awards, not only for his scholarship, but also for his civic activities and leadership in the advancement of Armenian studies. In 1990 Hovannisian was elected to the Armenian Academy of Arts and Sciences- the first nonresident to be so honored. He has received honorary doctorates from Yerevan State and Atrsakh State University, and, on the occasion of the 80th anniversary of the establishment of the First Republic, President Robert Kocharian awarded him the Movses Khorenatsi Medal in recognition for a lifetime's achievement in education in the social sciences.

This presentation is cosponsored by the Gould Center for Humanistic Studies and the Center for the Study of the Holocaust, Genocide, and Human Rights.