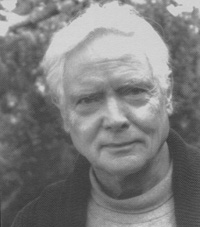 Poet Reads from His Work
W. S. MERWIN
TUESDAY, NOVEMBER 4, 2003 2:00 p.m.
W. S. Merwin is one of America's most powerful poets. From A Mask for Janus (1989), selected by W. H. Auden as the winner of the 1952 Yale Younger poets Award, to his 1970 Pulitzer Prize-winning The Carrier of Ladders (1970), to his epic of Hawaii The Folding Cliffs: A Narrative of 19th Century Hawaii (1998), Merwin has developed a luminous language for his flowing explorations of the human spirit and the natural world. Merwin has also become one of the eminent translators of our time, renowned for his versions of poets as diverse as Lorca, Borges, and Follain. His masterful translation of Dante's Purgatorio (2000) has been followed by widely acclaimed versions of the classic Sir Gawain and the Green Knight: A New Verse Translation (2002) and The Song of Roland (2001). His recent The Mays of Ventadorn (2002) explores in lyrical prose the world of 12th-century Provencal troubadours in light of his own experiences as a long-time visitor to Southwest France.

A long-tune resident of Maui, Hawaii, Merwin is also an environmentalist, cultivating rare palms in a three-acre garden. "Some of the palms I've planted were officially considered extinct at the time," but is pleased by the fact that several of his specimen top eighty-five feet. Merwin was raised in New Jersey, the son of a Presbyterian minister for whom he began writing hymns at the age of five. After attending Princeton and extensive travel in Europe, Merwin returned to the United States and became one of the most recognizable and innovative voices in American poetry. In addition to the Pulitzer Prize, Merwin has been the recipient of the Tanning Prize, the Ruth Lilly Poetry Prize, and the Bollingen prize.

The reading will begin at 2:00 p.m. in the Athenaeum. All are welcome. No reservations required.