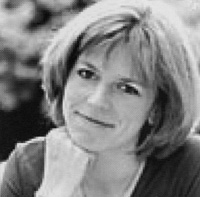 An Evening with Sylvia Brownrigg
SYLVIA BROWNRIGG
WEDNESDAY, NOVEMBER 5, 2003
If E.M. Forster's dictum "only connect" reflected a longing for coherence in the early twentieth century- the desire to "live in fragments no longer"- then Sylvia Brownrigg has summed up the new millennium's response: "But how to stay connected?" Brownrigg's first novel, The Metaphysical Touch (1998), takes this question as its epigram and focuses on a relationship forged in cyberspace between characters living on opposite sides of the United States.

How to connect? How to stay connected? People in Brownrigg's fiction often ponder the things that hold the world together. Her collection of short stories, Ten Women Who Shook the World (2001), "can be read almost as parables," says one reviewer, "but they are so fully felt and imagined that they seem almost breathed into being rather than written- a sure sign of the presence of a great writer-, when you can't hear the writing, and the story just pours effortlessly into your thirsty ear." Pages For You (2001), Brownrigg's poignant second novel, recounts the highs and lows of a doomed first love, connection written from the perspective of loss.

Brownrigg has a degree in philosophy from Yale University. In addition to writing fiction, she regularly contributes book reviews to publications such as The New York Times and The Times Literary Supplement. Her visit to CMC; takes place as in conjunction with the Gould Center seminar in Gay/Lesbian Writers of the 20th Century.