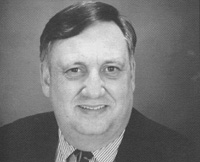 Rose Institute 30th Anniversary Address
DAN WALTERS
THURSDAY, OCTOBER 23, 2003
With a state budget deficit of approximately $38.2 billion dollars, the recall election, accusations of special interests dominating the legislative agenda, California's political landscape is a complex terrain to navigate. Political journalist and Sacramento Bee columnist, Dan Walters, will address the political issues facing Californians in the aftermath of the historic October 7th election.

Dan Walters has been a journalist for more than 40 years, spending all but a few of those years working for California newspapers. At one point in his career, at age 22, he was the nation's youngest daily newspaper editor.

He joined the The Sacramento Union's Capitol bureau in 1975, just as Jerry Brown began his governorship, and later became the Union's Capitol bureau chief. In 1981, Walters began writing the State's only daily newspaper column devoted to California political, economic and social events and in 1984, he and the column moved to the Sacramento Bee. He has written more than 6,000 columns about California and its politics and his column now appears in more than 50 California newspapers.

Walters has written about California and its politics for a number of other publications, including The Wall Street Journal and the Christian Science Monitor. He has also authored or co-authored two books, The New California: Facing the 21st Century (1986), and The Third House: Lobbyists, Money and Power in Sacramento (2002). Additionally he is the founding editor of the California Political Almanac.

Mr. Walters' Athenaeum presentation is the culminating speech of the Rose Institute's 30th Anniversary Conference. Students and faculty are invited to attend the conference free of charge. The conference, being held in the Mary Pickford Auditorium, will begin at 1:30 pm. The first panel will address "Successful Initiatives: Unintended Consequences?" and the second panel, beginning at 3:30 pm, will address "Failed Initiatives: Missed Opportunities?"