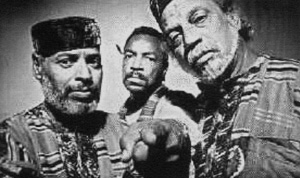 The Watts Prophets: Talk Up, Not Down
RICHARD DEDEAUX
AMDE HAMILTON
OTIS O'SOLOMON
TUESDAY, OCTOBER 28, 2003
The most influential artists that you probably never heard of !

The Watts Prophets were born out of the ashes of Watts, the Los Angeles Black ghetto that exploded into rage during the '60s. Firing angry words at the white establishment in rhythm and rhyme, their lyrics came straight from the rage and despair of the ghetto. Sages of wisdom, the Watts Prophets were the roots of rap.

Richard Dedeaux, Amde Hamilton, Otis O'Solomon, and poet/biographer Quincy Troupe were among the creative artists who emerged in 1967 from the Watts Writers Workshop, an artistic outlet for the Watts community established after the riots by Budd Schulberg, the Academy Award-winning screenwriter of "On the Waterfront." Today, the Watts Prophets are keeping the Workshop's healing legacy alive, bringing poetry and a positive message to juvenile offenders, Head Starters, and comfortable middle-schoolers in L.A. and across the country.

Over the years, the Watts Prophets have collaborated with jazz greats Don Cherry, Ornett Coleman, Sarah Vaughn, Billy Higgins, and Quincy Jones. Recognized as the progenitors of West Coast rap, their early albums of explosive social commentary were "In the Streets of Watts" (1970) and "Rappin' Black In a White World" (1971). They have recently released a new album "When the `90s Came (1997)," and toured with Ben Harper.

Dedeaux, Hamilton, and O'Solomon have lived and created in Los Angeles for more than 30 years . This trio, whose spoken/chanted/sung poems once told of their simmering anger over powerlessness in Watts, today are keeping the Workshop's healing legacy alive.

All are welcome for a wonderful evening of music and verse at the Athenaeum. This performance by the Watts Prophets is sponsored by the Marian Miner Cook Athenaeum and Dean of Students at Claremont McKenna College.