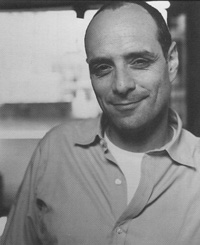 Conversation with Eric Schlosser
ERIC SCHLOSSER
MONDAY, NOVEMBER 17, 2003
The publication of Fast Food Nation: The Dark Side of the All-American Meal (2001) brought Eric Schlosser international acclaim. In this shocking expose, Schlosser asserts that the fast food industry has quickened the demolition of our landscape, increased the gap between the rich and the poor, launched a new form of American cultural imperialism abroad, and fueled an epidemic of obesity, the likes of which has never been seen in this country. He makes these arguments using a brilliant combination of sardonic wit, careful reasoning, and passionate journalism. According to USA Today, "Fast Food Nation is the kind of book that you hope young people read because it demonstrates far better than any social studies class the need for government regulation, the unchecked power of multinational corporations and the importance of our everyday decisions."

Schlosser followed this success with the release of Reefer Madness: Sex, Drugs, and Cheap Labor in the American Black Market in 2003. In this work, Schlosser argues that as much as ten percent of the American economy is comprised of illegal underground enterprises. Reefer Madness focuses on pornography, marijuana, and migrant labor with hard-hitting journalism and brutal honesty.

In a very short time, Schlosser has become a very powerful name in journalism and literary circles. Before the publication of these two stunning works, Schlosser wrote for Rolling Stone, The New Yorker, and the Atlantic Monthly. He won a National Magazine Award for Reefer Madness and has received a Sidney Hillman Foundation Award for Reporting.

Eric Schlosser's visit to CMC is part of the series Crisis in the Environment funded by a grant from the Mellon Foundation and the Roberts Environmental Center at Claremont McKenna College.

Come and see what is guaranteed to be a provocative presentation at the Marian Miner Cook Athenaeum. The dinner is open to CMC persons only. The lecture is open to all on a first-come basis with remote viewing in McKenna Auditorium.