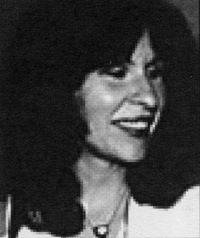 The Country Under My Skin: A Memoir of Love and War
GIOCONDA BELLI
WEDNESDAY, NOVEMBER 19, 2003
"I had exposed myself to bullets, death; I had smuggled weapons, given speeches, received awards, had children - so many things, but a life without men, without love, was alien to me," writes Gioconda Belli in her memoir, The Country Under My Skin: A Memoir of Love and War (2002). The ground-breaking Nicaraguan poet and novelist will share a first-hand account of her experiences in the Sandanista revolution in her evening address at the Athenaeum.

Belli's intriguing story details her escape from a stifling, upper-class marriage into the world of poetry and sexual fulfillment through a unique blend of political and personal history. With the Sandinista overthrow of Anastasio Somoza in 1979 that ended his 45 year dictatorship, Nicaragua entered a new political phase working toward a new model of libertarian socialism. A passionate rebel who held many positions in the Sandinista government, Belli emerged as both a liberated woman and a prisoner of love. Entangled by her affair with revolutionary leader Modesto and frustrated by the cult of machismo keeping women from the revolution's inner circle, she now shares those contradictions of female freedom. Throughout the 1980's Gioconda Belli traveled extensively as a spokesperson for the Sandinistas in an effort to urge revolutionary leaders such as Fidel Castro to support the Nicaraguan revolution. Both her experiences and her ability to express such a complicated history in prose and verse are unparalleled.

Gioconda Belli's publications include the following novels: The Inhabited Woman (1989), Sofia de los Presagios (1998), and Waslala (1998). Her books of poetry include Linea de fuego/Line of Fire (1978), From Eve's Rib (1987), and other collections of poetry. Her memoir The Country Under My Skin was selected as one of the best books of the year 2002 by the Los Angeles Times and nominated for the Los Angeles Times Book Award in 2003. Gioconda Belli resides in Santa Monica, California, and Managua, Nicaragua.

Mrs. Belli's lecture is sponsored by the Department of Modern Languages, the Dean of Faculty at CMC, and the Athenaeum.