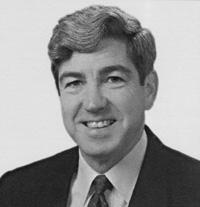 Weapons of Mass Destruction: Can We Change Our Fate?
RONALD LEHMAN II '68
NOVEMBER 24, 2003
11:45 a.m. lunch 12:15 p.m. lecture
The technology, equipment, and materials to produce biological, chemical, nuclear, radiological, and advanced conventional weapons have spread widely, so much so that such weapons could fall into the hands of terrorists. What are the real dangers posed by such weapons? What is being done to reduce the risks? Can we avoid disaster? The Honorable Ronald F. Lehman II will discuss these issues in his presentation.

Dr. Lehman is the Director of the Center for Global Security Research at the Lawrence Livermore National Laboratory and also is the Chairman of the Governing Board of the International Science and Technology Center (ISTC), an inter-governmental organization headquartered in Moscow. He serves on the U.S. Department of Defense Threat Reduction Advisory Committee (TRAC). Previously, Dr. Lehman was Director of the U.S. Arms Control and Disarmament Agency from 1989 to 1993. He served in the Defense Department as Assistant Secretary for International Security Policy, in the State Department as Ambassador and U.S. Chief Negotiator on Strategic Offensive Arms (START I), and in the White House as Deputy Assistant to the President for National Security Affairs. He also served on the National Security Council staff as a Senior Director, in the Pentagon as Deputy Assistant Secretary, and on the Senior Professional Staff of the U.S. Senate Armed Services Committee.

Dr. Lehman's other responsibilities included- Co-chair for the Joint Russian-American Steering Committee on the Implementation of the Agreement signed between the Governments of the Russian Federation and the United States on Implementation of the Nuclear Cities Initiative, Member of the Defense Science Board Task Forces on Globalization and Security, Member of the National Space Council and the Export Administration Review Board, Head of the U.S. Delegations to the Fourth Review Conference of the Nuclear Non-Proliferation Treaty and the Third Review Conference of the Biological Weapons Convention, Deputy Head of the Delegation for the Paris signing of the Chemical Weapons Convention, and Senior Advisor to the U.S. Delegation to the United Nations Special Session on Disarmament.

Ron Lehman received his B.A. from Claremont McKenna College in 1968 and his Ph.D. from the Claremont Graduate University in 1975. He is currently Chairman of the Board of Governors of the Keck Center for International and Strategic Studies at Claremont McKenna College and a member of the Board of Trustees of the World Affairs Council of Northern California.

Dr. Lehman's visit to CMC is sponsored by the Keck Center for International and Strategic Studies.

Lunch is served at 11:45 a.m. The lecture begins at 12:15 p.m.