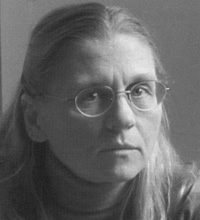 Always Do Right
COLEEN ROWLEY
WEDNESDAY, JANUARY 28, 2004
FBI Special Agent Coleen Rowley's "Bombshell Memo" to Director Robert Mueller in May 2002 catapulted her into the media after 21 years of dedicated, and relatively low profile, service to the country. In a 13-page memo Rowley criticized the FBI's response to terrorist activity in the U.S. prior to September 11th, specifically detailing the bureaucracy that discouraged further investigation of Zacarias Moussaoui (the alleged 20th hijacker). Her uneasiness after 9/11 also stemmed from the public statements made by FBI leadership. A woman of solid principles, Rowley wrote, "I have deep concerns that a delicate and subtle shading/skewing of facts by you and others at the highest levels of FBI management has occurred and is occurring." Making her criticism constructive, this whistle-blower also offered some blueprints for institutional change within the organization.
Less than a year after her Congressional testimony, Rowley made an attempt to warn Director Mueller and other administration officials about the dangers of launching the war in Iraq. After arguing in vain that the war in Iraq would only encourage more attacks domestically and complicate the "war on terror," Rowley "stepped down" in April 2003 from her legal position as Minneapolis Chief Division Counsel to go back to being a FBI Special Agent. She also began to speak publicly on ethics and ethical decision-making.
Named by Time magazine a 2002 Person of the Year, Coleen Rowley grew up in Iowa and graduated summa cum laude with a B.A. in French from Wartburg College. She also attended the College of Law at the University of Iowa and graduated with honors in 1980. Since joining the FBI in 1981, her assignments have included working on Organized Crime in New York and serving as an assistant legal attache in Paris and Montreal. She is married and the mother of four children ranging in age from eight to twenty-one.
Please join us for what is sure to be an inspiring and memorable lecture on ethics as Coleen Rowley shares her unique perspective and experience.
Special Agent Rowley's visit to CMC is cosponsored by the Kravis Leadership Institute and the Marian Miner Cook Athenaeum.
Always do right-this will gratify some and astonish the rest.
-Mark Twain