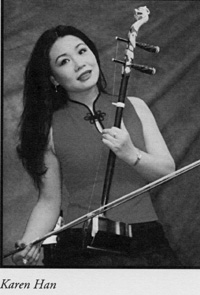 The Year of the Monkey
LUNAR NEW YEAR CELEBRATION
KAREN HAN, erhu
CECELIA LIU, zither
JERRY CHEN, piano
THURSDAY, JANUARY 29, 2004
To me, playing erhu is the best way to express myself, my feelings, my love, my compassion, and my admiration for this world.
-Karen Han

The Athenaeum will usher in the Year of the Wood/ Green Monkey, "Jia Shen," for its 12th annual Lunar New Year celebration-having come full circle on this ancient astrological calendar introduced in 263 BC. According to this ancient perspective on modern life, one should expect a year of sidestepping problems and clever manipulations, backed by intelligence and guile. Bluffs, tricks, ruses, and deceptions abound during Monkey years. Those who enjoy risk and novelty thrive; those who prefer predictability and convention wince. This is also a year to give full rein to your imagination, but also be wary of overoptimism.

In addition to a culinary treat, guests at this celebration will also have the good fortune to hear a concert by Karen Han, internationally renowned erhu virtuoso, and ensemble. The erhu is a two-stringed Chinese violin dating back well over a thousand years. The horsehair of the bow runs under the strings, so the bow cannot be separated from the instrument. The youngest person to have acquired both a bachelor's degree and a master's degree in performance arts from the Central Conservatory of Music in Beijing, China, Han has already accumulated more than 20 years professional experience in television, film, and live concerts. Most of us have heard Karen's erhu in the movies The Joy Luck Club (1993) and The Last Emperor (1987), the latter awarded an Oscar for Best Original Music. There, her playing was remarkable, nor only for its intricacy, but also for the emotion it conveyed.

Han's repertory includes not only traditional Chinese music, but also Western classics, a reflection of her desire to get closer to the two great cultural traditions. Karen Han will be joined in the performance by Cecelia Liu, zither, and Jerry Chen, piano. Dinner reservations are for CMC persons only. The concert is open to all.