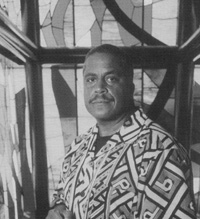 Crisis in Africa: A New Pan African Vision
DARRELL SMITH '74 P'00
TUESDAY, FEBRUARY 3, 2004
African Americans must become for Africa what Jewish Americans have become for Israel. African Americans should become the advocates, representatives, collaborators and business agents for the nations of Africa and the African Diaspora.
-Bishop Charles Blake, pastor of the Los Angeles-based, 24,000 member West Angeles Church of God in Christ

Darrell Smith, a 1974 graduate of Claremont McKenna College, stepped up to this challenge and walked away from twenty years of success in the corporate world of Procter & Gamble, Helene Curtis, and his own founding business, Smith & Associates, to be named executive director of the nonprofit Pan-African Children's Fund/ Save Africa's Children. This organization was formed in 2001 with a central focus of outreach to the crises in sub-Saharan Africa, home to 12 million AIDS orphans and over a million AIDS/HIV positive children.

In his Athenaeum talk, Smith will explore some real time information about the current orphan situation throughout Africa and his micro analysis will make plain the macro problem, such as the UN AIDS estimate of 40 million orphans in Africa by 2010. Save Africa's Children reports that this is the largest epidemic since the bubonic plague, claiming more than 6 million lives. This dilemma will lead to further complications in the near future as the adult mortality rate continues to drop with 6,000 AIDS deaths a day. Drastic measures must be taken to stem the negative tide of social and financial collapse in many sub-Saharan countries and provide for the estimated need for 50,000 orphanages in Africa in the coming decade.

Smith challenges America and the role it must play in order to insure that there is a future for the children of Africa.

"The devastation is so large and critical, it is very hard to harness what I want to say and give it a title that will tell the story," says Smith. Please come and hear his story.