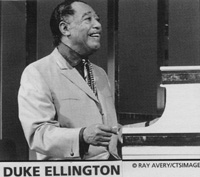 Duke Ellington Orchestra Reunion Jam
BUTCH BALLARD, drums
DAVE BLACK, drums
LOUIE BELLSON, drums
JEFF CASTLEMAN, guitar
BUSTER COOPER, trombone
DEVONNE GARDNER, vocals
LIL GREENWOOD, vocals
BARRIE LEE HALL, trumpet
HERB JEFFRIES, vocals
JOHN LAMB, bass
MILCHO LEVIEV, paino
DOLORES PARKER, vocals
VINCE PRUDENTE, trombone
EVE SMITH, vocals
ROCKY WHITE, drums
BARBARA WINFIELD, vocals
JIMMY WOODE, bass
MONDAY, FEBRUARY 9, 2004
Duke Ellington did not want to sound like anyone else; he wanted to sound like himself.
-John Edward Murray

For nearly fifty years, Edward Kennedy "Duke' Ellington headed the foremost American big band, and through his wonderful works brought increased respect and credibility to African-American jazz. An extremely talented composer, pianist, and band leader, Ellington's unique sound pushed the limits of the accepted cannon of music and made him both an American and international sensation. The winner of thirteen Grammy Awards, Ellington was widely regarded as one of the world's greatest composers and musicians. Never bowing to pressure, adversity, or criticism, he once said, "A problem is a chance for you to do your best."

Ellington's legend has continued to grow in the thirty years since his death. Coming to the Athenaeum for what is the culminating event of The Ellington Reunion Project cosponsored by Claremont McKenna College and The American Jazz Institute, are several members of Ellington's former band. They will share both their memories of Ellington and the music they performed with him over his illustrious career. Also featured will be the music of Billy Strayhorn, a pianist and associate arranger for Ellington. Ellington once commented that Strayhorn "successfully married melody, words, and harmony, equating the fitting with happiness." The attendees at this program include fomer band members: Butch Ballard, Dave Black, Louie Bellson, Jeff Castleman, Buster Cooper, Devonne Gardner, Lil Greenwood, Barrie Lee Hall, Herb Jeffries, John Lamb, Dolores Parker, Vince Prudente, Eve Smith, Rocky White, Barbara Winfield and Jimmy Woode.

Please join us for this unique opportunity to experience Duke Ellington through the memories and music of those who shared the spotlight with him.